Boehner to ask Congress for short-term debt increase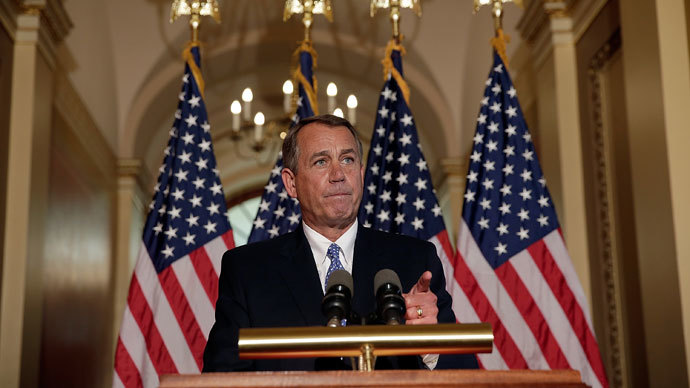 Speaker of the House John Boehner reportedly asked fellow Republicans in his chamber of Congress to approve a short-term increase of the debt ceiling, according to GOP aides who spoke with the Associated Press.
The AP reported early Thursday that Rep. Boehner (R-Ohio) began pleading with members of his party to pass a short-term extension that will prolong the federal government's ability to borrow money beyond the October 17 deadline.
His efforts appeared to be for naught after lawmakers met Thursday evening and no deal was reached on either the government shutdown or looming debt ceiling, conflicting an earlier report that the White House had outright turned down a deal. 
Republican Representative Paul Ryan said President Obama indicated neither yes or no to a Republican offer to temporarily raise the debt ceiling, and avoid what analysts have said would be a fiscal disaster.
Should the debt ceiling not be raised, the government is expected to default and trigger consequences that President Barack Obama called "catastrophic" during an address earlier this week.
"If Congress refuses to raise what's called the debt ceiling, America would not be able to meet all of our financial obligations for the first time in 220 years," Obama said.
The president has urged Congress to raise the debt ceiling in recent days ahead of the looming deadline, but also in the midst of a government shutdown now in its second week. Tuesday afternoon, Mr. Obama said defaulting on America's debt "would be dramatically worse" than the current crisis.
"All it does is allow the Treasury Department to pay for what Congress has already spent," explained the president.
The shutdown that started two weeks ago was triggered after Republicans in the House refused to pass a spending bill that included the Affordable Care Act, the controversial but Supreme Court-upheld health insurance mandate that has been referred to largely as "Obamacare." During his address this past Tuesday, the president said that he wants to come to a compromise with the GOP, but refuses to negotiate while Republicans hang "the threats of government shutdown or economic chaos" over the country.
But a defiant House of Representatives, led by Boehner's Republicans, has adamantly refused to budge — at least up until now."The long and short of it is there is going to be a negotiation here," Boehner said late Tuesday. "The president said today if there's unconditional surrender by Republicans, he'll sit down and talk to us. That's not the way our government works."  

Late Thursday morning, House leaders held a press conference in Washington confirming that a six-week extension would be proposed before Congress. Rep. Eric Cantor (R-Virginia) said Republicans had received an invitation to meet at the White House later that afternoon, and he was glad to move forward with negotiations but continues to blame the shutdown on both major parties.
"We're continuing to negotiate this evening," said Majority Leader Eric Cantor (R-Va.) said Thursday night. "We had a very useful meeting and we expect further conversations tonight."