Moscow Trucks proposal cost impact under debate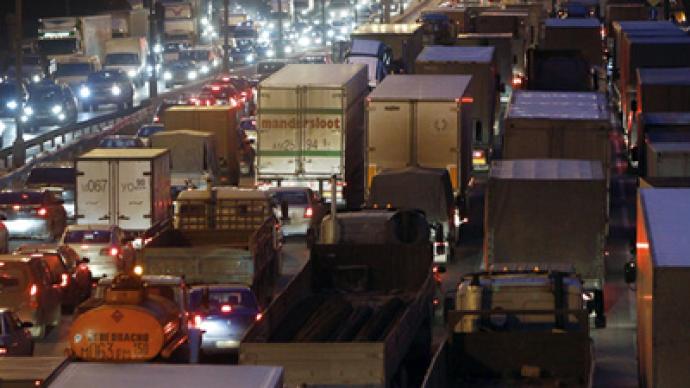 Proposals by new Moscow Mayor Sergei Sobyanin to fight the Russian capital's chronic traffic chaos have drawn fire from the truckers union over their potential impact on costs.
­The proposals for alleviating the traffic jams and chaos for which the city has become infamous, are available to the public at the official site of the Moscow city Government, for 3-4 weeks to promote public discussion and debate.
They include the removal of trolley busses from the city centre and replacement of minibus taxis with larger busses, as well as the closure of parts of the city to traffic, a roadside parking ban in some areas, the creation of a network of one way streets, and a notification system to alert the public to parking availability.
But the proposal which has attracted most attention thus far is the suggestion of banning heavy traffic from entering the city between 7:00 am and 10:00 pm on weekdays and all day during weekends and public holidays.The proposals notes that it would be necessary to ensure that appropriate parking, logistics and customs facilities were located a suitable distance outside the city.
Valery Voitko, head of the labour Union Dalnoboishik (Long – Haul trucker), has published an open letter in Novaya Gazeta on November 10 to Moscow's Mayor.In it he outlines the logistics issues needing address before the proposal could be put into action.Talking to RT, Voitko was positive about the idea itself, underlining though that it desperately needed developed infrastructure, a distinct plan, and would certainly take time.
"I think, the move is positive, logical and long awaited, as Moscow has been getting strangled for about 15 years already, but there's absolutely no infrastructure for that.It is necessary to provide for terminals and storages well away from the Moscow Ring Road. And, I think, that, in fact, the move is the last warning for those who own terminals in Moscow – to get out of the city.
The first thing Russian authorities need to tell people, is that the move will certainly take time – 3-5 years at least – it's impossible to introduce it in 2011 as Moscow authorities promise.It can't happen immediately, a clear and phased plan is necessary."
Voitko also raised concerns about the possible impact on food prices in Moscow.
"According to our calculations, an increase of transportation costs will result on average in an additional 2-3 kopecks per a kilo for a product's prime cost – you can imagine what can happen with the final price."
FBK Director of Strategic Analysis, Igor Nikolaev, told RT that he thought the plan was too radical and needed to be made more consistent.He doubted whether the move would really solve the problem of Moscow traffic jams, saying that "the role of trucks in creating that is overestimated, but the problems for both retailers and consumers are inevitable."
Retailer Sedmoi Kontinent declined to offer an official comment to RT, as the proposal was still under discussion, but they added that they hoped "their opinion would also be considered."
Unicredit Securities analyst, Vladimir Kuznetsov, doesn't expect the move to impact significantly on prices.
"I think, there is no real danger that the move will make food prices skyrocket, as transportation costs for Magnit, for example, make up just 1.7% of a product's prime cost."
Mikhail Krasnoperov, a retail analyst at Troika Dialog, also said the impact on food prices would be minimal.
"Transportation costs for big retailers in Russia don't exceed 2% of a product's prime cost, and for smaller market players the maximum figure is 3%. So, I don't think that the plan, if approved, damages consumers too much."