Moody's cuts ratings of 16 Spanish banks
Published time: 17 May, 2012 20:47
Edited time: 18 May, 2012 11:16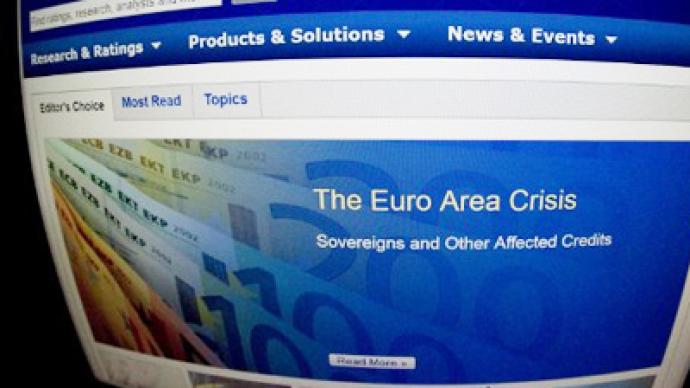 The European banking industry has suffered another crushing blow after Moody's ratings agency downgraded the credit ratings of 16 Spanish banks, citing the weakened government's ability to support some banks.
The agency downgraded the long-term debt and deposit ratings by one to three notches for 16 Spanish banks and Santander UK PLC, a UK-domiciled subsidiary of Banco Santander SA.
Among those downgraded on Thursday are Spain's two largest banks, Banco Santander (Spain) SA and Banco Bilbao Vizcaya Argentaria SA.
The debt and deposit ratings declined by one notch for five banks, by two notches for three banks and by three notches for nine banks. The short-term ratings for 13 banks have also been downgraded between one and two notches, triggered by the long-term ratings changes.
The outlooks on the debt and deposit ratings for ten of the 17 banks downgraded today are now negative. For the remaining seven banks affected by today's actions, their ratings remain on review for a further downgrade.
Also on Thursday, Moody's downgraded the ratings of the Spanish regions of Catalunya, Murcia, Andalucia and Extremadura due to their poor fiscal performance in 2011 and the low probability that the regional governments will be able to meet the 2012 deficit target set by the central government.
Author and professor of economics Philipp Bagus thinks that the news may eventually force the Spanish government to bail out or even nationalize some banks.
"As deposits are leaving, Spanish and also Greek banks [will be experiencing even more difficulties]. That means that there will be more pressure on the governments to bail out their banks,"
he told RT.
"So far implicit, the public debt now becomes explicit, so the public debt burden increases, and the increasing market pressure on these governments will encourage them to do some real reforms – otherwise they will have to default."
The Spanish downgrade comes shortly after the agency cut the ratings of 26 Italian banks on May 14, including Italy's largest, UniCredit and Intesa Sanpaolo. Moody's dropped its long-term debt and deposit ratings for financial institutions due to the recession, tough austerity measures and €1.9 trillion of outstanding public debt. This resulted in lower loan demand and more loan losses for Italian banks.
The move comes as no surprise. Moody's has been poised to cut the ratings cut since February, when the agency announced it was planning to downgrade 122 European financial institutions by May. The ratings of 114 banks and nine investment banks from 16 European countries were put under consideration, with the downgrade risks mainly relating to the eurozone periphery.