Moody's cuts Barclay's outlook
Published time: 5 Jul, 2012 11:02
Edited time: 5 Jul, 2012 15:02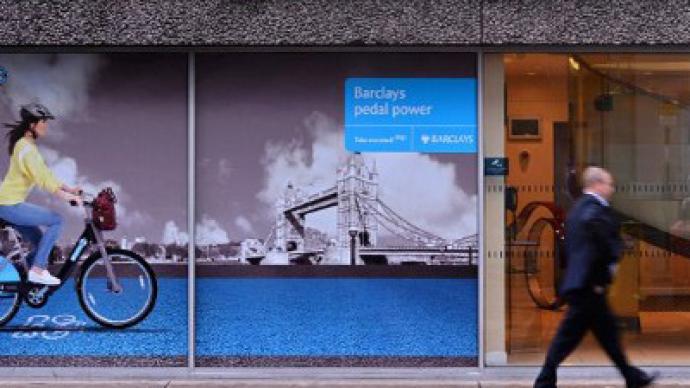 US rating agency Moody's revised Barclay's outlook from stable to negative, citing the resignations of three senior executives including CEO Bob Diamond in the wake of a rate fixing scandal.
­Moody's cut its outlook on Barclays' C-/baa2 standalone bank financial strength rating (BFSR) to negative from stable.
The shareholder and political pressure on Barclays, which forced Chairman Marcus Aigus, CEO Bob Diamond and COO Jerry de Mersier to quit, "could lead to broader pressure on the bank to shift its business model away from investment banking and reform perceived failures in its business culture," Moody's said in a statement.
Moody's also said Barclays could face a challenge to find a suitable candidate to replace Diamond, who has a solid understanding of investment banking, but also has the "credibility and ability to swiftly address the weaknesses that the Libor incident revealed and stakeholders' perceptions of the bank."

Meanwhile the bank's former boss Diamond was questioned by British MPs Tuesday over interest rate rigging case. He admitted "wrong behavior" of Barclay's traders, but stressed the bank wasn't alone to provide false figures in the time of crisis.

Moody's has already revised an outlook on Barclay's A2 senior debt and deposit rating to negative amid expectations the UK government will cut support for big banks in the foreseeable future.
Last week Barclay's paid a $450 million fine over its involvement in the rate fixing case. The bank has lost about $5 billion of its markets value since then. Currently more than a dozen of major banks including Citigroup, HSBC, Credit Suisse and Deutsche Banks are under investigation on alleged providing false figures on borrowing rates between 2005 and 2009, which affected hundreds of trillions of dollars of transactions, including bank-to-bank loans.