Market Buzz: ECB decision in focus
Published time: 5 Jul, 2012 06:19
Edited time: 5 Jul, 2012 10:19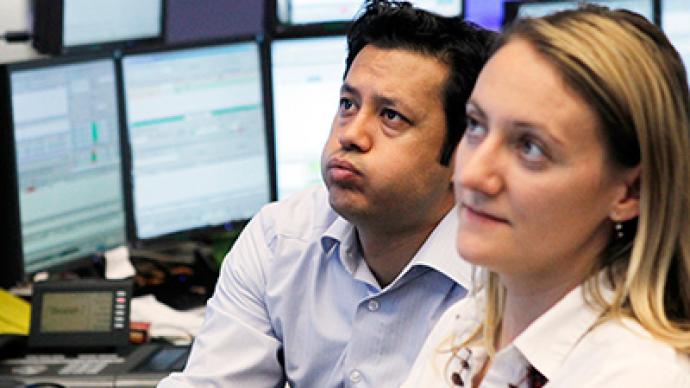 Investors are jittery ahead of a European Central Bank and Bank of England as they expected to unveil more easing at meetings on Thursday. The ECB is widely expected to ease its key rate by 25 basis points to a record low 0.75% on Thursday.
In Russia the markets continued their gaining streak into the fourth day as speculation European central bankers will ease monetary policy whetted appetites for riskier assets. The Micex rose to its highest level in two months, gaining 0.5% at the close on Wednesday. The dollar-denominated RTS Index was flat.

"All eyes are on an ECB decision. However, a correction is still in sight for the Russian markets if oil prices do not strengthen further,"
says Aleksei Rybakov from the investment company Trade Portal.
Crude oil prices fell back on Wednesday as investors' focus reverted to the grim economic backdrop following the profits made after the sharp gains in previous sessions.
Asia stocks fell in early trade on Thursday as regional markets were tracking a weaker European session, with US markets closed for Independence Day. In China, the Shanghai Composite was lower 1.2%, while Hong Kong's Hang Seng Index shed 0.34%. The Nikkei Stock Average dropped 0.2%
On Wednesday the July Fourth holiday break in the US was slimming trading volumes in Europe, with energy stocks and banks lower as investors are anticipating the outcome of the European Central Bank meeting.
The market also drifted sideways as Robert Diamond, the former chief executive at Barclays PLC, testified in front of a UK parliamentary committee over the interest-rate fixing scandal. The DAX 30 index was down 0.2%.
"Having spent the whole morning in the red and in a range of only a few points we suddenly saw a bit of low volume buying push us into positive territory as investors have once again indicated their willingness to pick up equities ahead of Thursday's BOE and ECB rate decisions where further stimulus and monetary easing is expected"
, says Angus Campbell, Head of Market Analysis, Capital Spreads
.
However, disappointing data from the UK's services sector capped any prospect of gains. The PMI survey fell more than expected, hovering dangerously close to the contraction level of below 50.0. The FTSE 100 index inched lower by 0.06%.
The Spain IBEX 35 index fell 0.71%. European officials said that sending of up to €100 billion ($125 million) in aid to Spanish banks could be put off until July 20, saying that an audit of four banks in Spain has not been finished, some media reports indicated.  It was hoped an agreement for the aid would be signed by July 9.

­