Market Buzz: Uncertainty weighs on investors
Published time: 12 Jul, 2012 05:25
Edited time: 12 Jul, 2012 09:30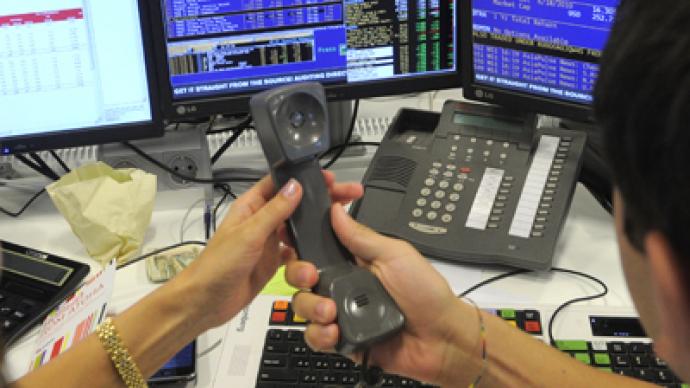 Global investors are still concerned that earnings are being hit by the global slowdown and are cautious ahead of Friday's much-anticipated Chinese second-quarter economic growth figures.
­Asian stock markets fell Thursday, as hopes of fresh stimulus efforts from the US diminished and amid speculation that China may announce on Friday that gross domestic product slowed in the second quarter.
Hong Kong's Hang Seng Index plunged 1.6%, while the Shanghai Composite Index dropped 0.3%.
As widely expected, the Bank of Japan kept monetary policy unchanged on Thursday and maintained its view that the country's economy is gradually picking up. The central bank maintained its key policy rate in a range of zero to 0.1 percent by a unanimous vote, and kept monthly bond purchases at 1.8 trillion yen, holding off on easing monetary policy further.

Japan's Nikkei Stock Average fell 1.3%, while South Korea's Kospi lost 0.5%.The Bank of Korea unexpectedly cut borrowing costs for the first time in more than three years. The benchmark seven-day repurchase rate was cut by a quarter percentage point to 3%, the first cut since February 2009.
Europe's debt crisis and signs of weak growth in the United States are undermining demand for Chinese exports and have investors concerned that a slowdown in the world's second-largest economy could be worsening. China is set to announce GDP results for the April to June period on Friday, and growth likely slowed to 7.9%, the worst reading since the aftermath of the 2008 global financial crisis.
US stocks were lower on Wednesday after the Federal Reserve failed to deliver a firmer read on additional stimulus with the Dow and the S&P both extending losses into a fifth day.
The Dow Jones Industrial Average pared losses in the final half hour of trading to finish 0.4% in the red as investors debated whether the Federal Reserve will embark on another economic stimulus program.
The S&P 500 was flat and the Nasdaq Composite lost or 0.5%.
Minutes of the Fed meeting showed some participants said more bond purchases are appropriate. Others said they would be needed in the absence of "satisfactory progress" in cutting unemployment or if downside risks grew.
Over in Europe Britain's FTSE 100 top share index ended flat in low volume on Wednesday with investors concerned over global growth and corporate earnings.
The DAX 30 Index rose 0.2 %in Frankfurt.
Germany's highest court said it could take months for it to rule on whether the country's participation in the European Stability mechanism (ESM) bailout fund is constitutional.
Spain's IBEX 35 index advanced 1.2%, as Prime Minister Mariano Rajoy announced 65 billion euro in new austerity measures to meet new budget-deficit targets. Yields on 10-year Spanish government bonds fell 27 basis points to 6.53%.
In Russia, stocks fell to their lowest levels in more than a week, led by oil company losses. The benchmark MICEX Index lost 1.2% at the close in Moscow. The dollar-denominated RTS Index dropped 0.5%.
"The Russian markets have already fully responded to the news coming from the US and Europe on Wednesday, tracking overseas markets lower. Therefore we are not expecting any new wave of sharp decreases on the Russian trading platform," says Aleksey Malikov from investment group Trade-Portal.