Market Buzz: Mired in weakness
Published time: 9 Jul, 2012 05:21
Edited time: 9 Jul, 2012 09:21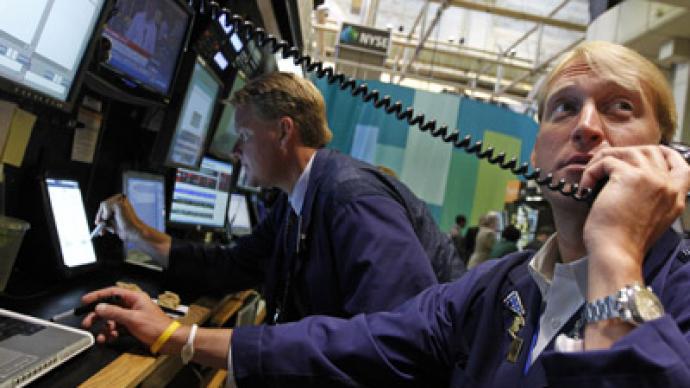 Global investors are hoping that the raft of disappointing data last week is likely to spur central banks into more stimulus measures to prevent another deep and prolonged recession, analysts say.
­
Asian stocks were lower Monday after Friday's disappointing US jobs report added to continuing concern about the health of the country's economy. The US Labor Department said the country's economy added a less than expected 80,000 jobs last month.
Japan's Nikkei 225 index and South Korea's Kospi each dropped 1%.
In China, Hong Kong's Hang Seng Index shed 1.5% and the Shanghai Composite lost 1.1% as Chinese Premier Wen Jiabao highlighted his nation's economic pressures in his comments over the weekend. Jiabao also said China's current property market remains at a critical stage, and controlling speculative demand in the property market will be a long-term policy.
Inflation figures for China published on Monday showed the consumer price index is at its lowest since January 2010, which means more stimulus measures may be needed from Beijing to fight an economic slowdown. In a surprise move, China last week cut interest rates for a second time in a month.
Investors are anticipating more figures from China this week, including the latest trade numbers Tuesday and retail sales, industrial production and gross domestic product on Friday.
In the US stocks finished the holiday-shortened week sharply in the red following weak readings on the US economy. On Friday, the Dow Jones industrial average closed down 1%. The Standard & Poor's 500 fell 0.9%. The Nasdaq shed 1.3%.
The Russian stocks and the ruble weakened on Friday on increasing concerns about the world economic outlook and a drop in the price of oil. Investors were cashing in as Russia's chief export fell more than $1 to below $100 a barrel on world markets, adding to woes that the global economy is slowing and demand for oil will ease.
Russia's MICEX index was down 1.5%, while the RTS lost 2.2%.
"We expect the markets to start the week on a negative note with Russia's MICEX unlikely to break 1450 points mark", says Aleksey Malikov from investment group Trade Portal.
In Europe London's FTSE 100 shed 0.53% and the DAX Index retreated 1.9% at the close of trade in Frankfurt after lower than expected US employment figures.
"Western economies are struggling and for those that are not already in recession like the UK
and many in the euro zone, it may not be long before they too suffer the same fate.  Equity markets are trying their best to rally but regularly they are jolted by a sudden shock of bad news" says Angus Campbell, Head of Market Analysis at Capital Spreads. "The only thing that prevented losses from accumulating is that the raft of bad data is likely to spur central banks into more stimulus to prevent another deep and prolonged recession".