Global markets fall on news from Fed, China PMI
Published time: 23 May, 2013 12:50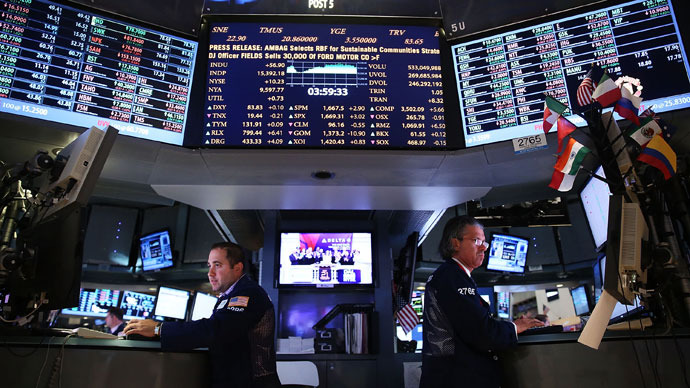 The Japanese Nikkei lost 7.3 percent on Thursday, the worst loss in over two years, after China released unexpectedly weak Flash PMI accompanied by hints that the US Federal Reserve could shut down its stimulus program in June.
The Nikkei turned out to be Thursday's negative trendsetter leading the downward tendency in Asia.  

Weak Flash China PMI released on Thursday by HSBC and indicating a contraction in China's manufacturing as well as late Wednesday's remarks from the Federal Reserve Chairman Ben Bernanke on the US bond buying program disappointed not just the Asian markets.
Other major indicators in Asia fell as well with Hong Kong's Hang Seng losing 2.5 percent, and South Korea's Kospi dropping 1.2 percent. Markets in Australia, Thailand, Taiwan and Singapore also fell.
European stocks traded significantly lower on Thursday, also reacting to the disappointing data from China and comments from the US Federal Reserve. The Stoxx Europe 600 index slid 1.9 percent to 304.65, deflecting down after closing at the highest level in five years on Wednesday.
Russian markets are also sharply in the red on Thursday. MICEX is losing as much as 2.93 percent, while RTS is down more than 3.5 percent. This is also due to the steep fall in the oil prices. 
Chinese government's attempts to boost domestic consumption in the world's second biggest economy has finally caught up with recession-hit Europe, uncertainty in the US and deflation-driven Japan.
HSBC said its Purchasing Managers Index fell to its lowest level since October slipping below analysts' expectations to 49.6 in May from 50.4 in April. Figures below 50 points indicate that activity is contracting. Analysts forecast a decline to 50.3.
"It's no secret. The true picture is that China's export sector is slowing down, and its manufacturing sector is also slowing down. That means the trade surplus is almost gone," Francis Lun, chief economist at GE Oriental Financial Group told the BBC.
Wednesday's testimony by the Fed Chairman Ben Bernanke added to the negative sentiment after the US central bank chief said the Fed could decide on pulling out of its bond buying program over the next few meetings should the US job market shows "real and sustainable progress".
The minutes of the Fed's last meeting revealed that "a number" of officials' support pulling out of the Quantitative Easing efforts as early as June. The Federal Reseve will hold its next meeting on June 18-19.