Weak Chinese manufacturing data disappoints markets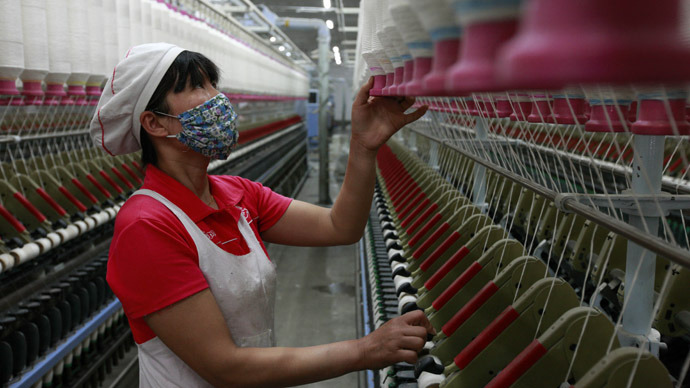 Chinese manufacturing slowed down in April alarming the markets. The data was compiled by HSBC and released on Tuesday, adding to investor concerns on global growth. 
HSBC released its preliminary manufacturing PMI. According to the survey the indicator slipped to a two-month low of 50.5 from March's 51.6. It also missed Bloomberg's expectations of 51.5.
The headline index remained above the 50 mark, separating expansion from contraction. The sub-index measuring new export orders fell to 48.6 in April from 50.5 in March, indicating decreasing global demand. 
"New export orders contracted after a temporary rebound in March, suggesting external demand for China's exports remains weak," said HSBC Chief China Economist Hongbin Qu. "Weaker overall demand has also started to weigh on employment in the manufacturing sector."
Sub-indexes measuring input and output prices also fell in April, indicating weaker demand.
An employment sub-index also slipped below the 50 mark. Although according to Reuters China's job market is holding up quite well despite slower growth.
China's manufacturing is regarded as key indicator of global economy as the country is one of the world's major exporters. Manufacturing also makes up a large part of China's economy.  
"Beijing is expected to respond strongly to sustain the economic recovery by increasing efforts to boost domestic investment and consumption in the coming months," HSBC's Hongbin Qu said on possible policy responses from the newly installed administration of China's leader Xi Jinping.
The preliminary PMI data includes about 85%-90% of the responses to the survey, a final figure will be released on May 2.
The data followed China's disappointing GDP update. The pace of economic expansion in China did not meet economists' expectation as growth was only 7.7% in the first quarter of 2013. Experts had hoped that China's economy would have a stronger start to 2013.
China's economic growth contributed greatly to the 10-year commodity market boost. Now that the growth pace is slowing down, it promises problems for exporters. 
In the past two months, the S&P GSCI Spot Index of 24 raw materials has dropped 10%.
Markets immediately reacted to the weaker-than-expected data. Chinese stocks fell further to extend earlier losses. The Shanghai Composite slipped 1.3%. Hong Kong's Hang Seng also fell 0.7%, against a 0.3% decline prior to the report release.