Market Buzz: Oil slumps, US supply data awaited
Published time: 7 Aug, 2013 06:25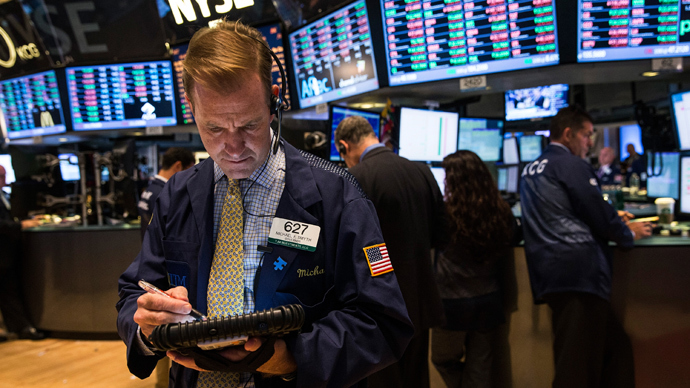 Russian equities dropped for the third day this week, and may dip again before the Central Bank of Russia meets August 9 to decide whether or not to cut its main lending rate.
The rate is likely to remain at 8.25 percent, as government officials wait for inflation to drop before decreasing the benchmark.

The MICEX experienced big losses early on, but later recovered and finished up 0.10 percent 1,366.08 after sliding nearly 2 percent. The dollar-based RTS decreased 2.13 percent to 1304.98.

"After a significant slump of Russian indices during the previous trading day one shouldn't expect sharp market movements in the wake of no important news from Europe and the USA," said Grigory Birg, an analyst at Investcafe.

Oil, Russia's main export, also dropped, which could continue to drag on trading Wednesday. WTI is trading down 0.02 percent at $105.28 per barrel and Crude decreased 0.27 percent to $107.89 per barrel. The US Energy Information Administration has increased its WTI crude price forecast for 2013.

The US will announce its weekly data supplies today, and if inventory is low, prices could rise even higher.

"It will be hard for WTI to push higher unless there is a major geopolitical event," Bank of America's Francisco Blanch told Bloomberg.

The Russian ruble declined on lower oil prices and is trading at 32.9887 rubles against the dollar.

With earnings season market boosts far in the past, US equity gains have slowed as analysts' eye the Federal Reserves' plan to continue their $85 million-per-month bond buying program. The Dow Jones finished down 0.60 percent, the S&P declined 0.57 percent, and the NASDAQ dropped 0.74 percent

A decision to dismantle the program would hit stocks hard and lower prices, but would strengthen them long-term.

Amsterdam's Euro Stoxx 50 fell 0.65 percent to 2,790.78, Germany's DAX is down 1.17 percent even on positive factory order data, France's CAC 40 dropped 0.43 percent to 4,032.57, and London's FTSE 100 Index shed 0.23 percent to 6,604.21.

The Bank of England will release their quarterly inflation report, and the BoE governor Mark Carney will deliver economic remarks, which will be an important indicator for European markets

Asian stocks are still sluggish on Fed doubts. Tuesday's announcement Sony will not dismantle part of their entertainment division in an IPO sent the stock plummeting 4 percent, which will still have some ripple effects on Wednesday trading.

The Nikkei, volatile because of its size, is down 3.08 percent at 13,956.98, a near 2,000 point drop from Tuesday's trading. The Hong Kong Hang Seng Index decreased 0.47 percent to 21,820.78.

The Reserve Bank of Australia cut its lending interest rate to a record-low of 2.5 percent, still dictating investor skepticism, and the ASX 200 benchmark has dropped 0.27 percent to 5,016.60 after picking up relative gains Tuesday.