Market Buzz: Positive China PMI moves markets
Published time: 6 Aug, 2013 06:10
Edited time: 6 Aug, 2013 08:29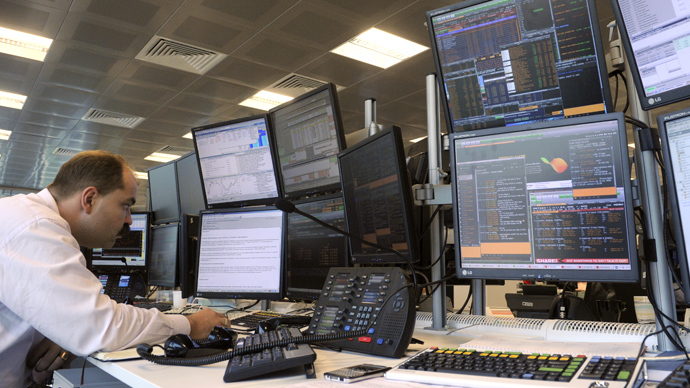 Indices in Moscow were left mostly unchanged after a two-week slump spurred by a potash price scare by Uralkali. The MICEX dropped 0.04 percent and the dollar-based RTS dipped 0.22 percent.
China's strong PMI results drove equities up in the early morning, but didn't continue throughout the day. A continued economic Chinese slowdown would hit Russia especially hard, as they currently export many of their commodities to China.

WTI crude has gained 0.39 percent and is trading up at $107.36 per barrel and Brent has reached $109.26 per barrel. Brent will look to cross, and remain above the $109-mark, but may be susceptible to implications stemming from renewed US-Iran nuclear dialogue.

The US will announce their weekly data supplies today, and an excessive output could drive prices down further.

The Russian ruble declined on lower oil prices and is trading at 30.04 rubles against the dollar.

At market close, American indices were lower. The Dow Jones finished down 0.30 percent the S&P fell 0.15 percent, and but the NASDAQ Composite finished up 0.09 percent

A decision to dismantle the $85 million-per-month bond buying program would hit stocks hard and lower prices, but would strengthen them long-term.

Amsterdam's Euro Stoxx 50 fell 0.7 percent to 2,809.08, Germany's DAX is down .10 percent to 8,393.38, France's CAC 40 climbed 0.11 percent to 4,049.97, and London's FTSE is down 0.43 percent.

Asian stocks had a slow start on Tuesday, and equities haven't dramatically risen. The Nikkei index continues its rollercoaster trading streak, and this time is up 0.17 percent at 15,282.49, a nearly 2.5 point gain from Monday.

Australia's central bank cut its lending interest rate to a record-low of 2.5 percent. Manufacturing and unemployment are affecting the rate, as well as – like Russia - being dependent on Chinese resource consumption.

Australia's ASX 200 benchmark is down 0.27 percent to 5,097.60.