Market Buzz: Brent oil hits $109, Iran may signal drop
Published time: 5 Aug, 2013 06:56
Edited time: 5 Aug, 2013 08:12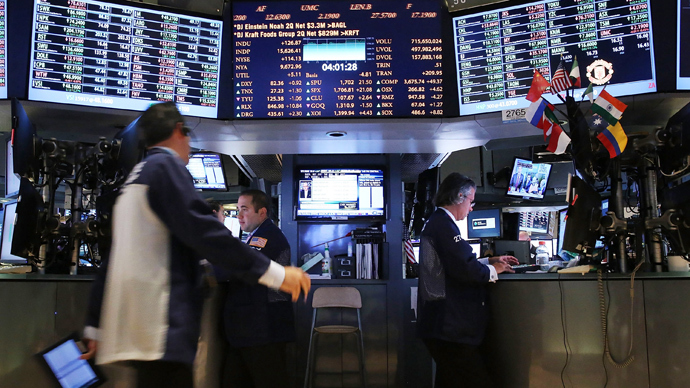 Brent oil rose above $109 per barrel on promising China data, but may be susceptible to implications stemming from renewed US-Iran nuclear dialogue.
WTI crude has gained 0.39 percent and is trading up at $107.36 per barrel and Brent has reached $109. 26 a barrel.

Refreshed US-Iranian rapport will be an important indicator on crude prices this week.

Russian equities will look to gain after last week's potash pricing scheme rocked valuations. Gazprom, the world's largest natural gas producer, will also look to recover from last weeks' losses. The MICEX index is trading at 1,392.18 and the dollar-based RTS index opened low at 1335.95.

Russia has imposed a temporary ban on New Zealand dairy products over a botulism scare, though there have been no reported cases of the spoiled goods hitting Russian shelves. China has also halted milk imports from New Zealand, which account for nearly a third of New Zealand's GDP. The Kiwi has slipped to a month-low.

US stocks gained even though the July jobs report was disappointing, but investors were encouraged by the Federal Reserve's decision to wait on tapering their $85 billion per month bond buying program.

A decision to dismantle the $85 million-per-month bond buying program would hit stocks hard and lower prices, but would strengthen them long-term. Incomes rose 0.3 percent in July.

The Dow Jones index closed up 0.83 percent, the S&P climbed 1.25 percent, and the Nasdaq rose 1.36 percent.

Amsterdam's Euro Stoxx 50 is up 0.08 percent at 2,811.00, Germany's DAX has lose 0.05 percent and is trading at 8,406.94, France's CAC 40 is up 0.07 percent at 4,045.65, and London's FTSE is down 0.24 percent at 16,779.10.

Asian equities are mixed with the Nikkei 225 down 1.44 percent and the Hong Kong Seng Index up 0.17 percent.

Australia's ASX 200 benchmark is down 0.15 percent at 5,109.30, only a 4 point drop from Friday's market close.