Australia underestimated growth, unemployment, and debt figures by billions
Published time: 2 Aug, 2013 10:25
Edited time: 2 Aug, 2013 11:08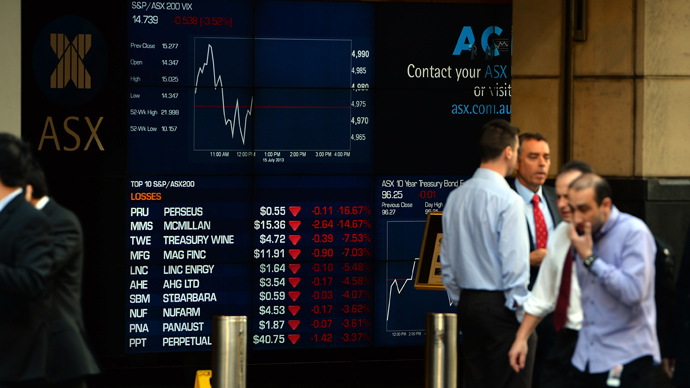 Australia will post a budget deficit of $30.1 billion for the fiscal year, a gross miscalculation from its May estimate of $18 billion, but the government promises to stay on track.
Federal Treasurer Chris Bowen, speaking on the newly-released economic report, said Australia is undergoing 'economic transition' and 'not a crisis'. Bowen predicts weaker economic growth, increased unemployment, and more government debt on the horizon.
The forecast 2014-2015 deficit has surged to $24 billion, up from the previously $10.9 billion. The government has vowed to curb the deficit for the 2016-2017 period.

The report shows that Australia's 2013-2014 deficit will be 1.9 percent of GDP, much lower than the US deficit of 5.4 percent of the economy, Japan's 7 percent, or the euro zone's 2.6 percent, according to April IMF data.

Australia isn't expected to reach a surplus until 2016-2017, when it is projected to be $4 billion, also trimmed from its May figure of $6.6 billion. Many government officials are skeptical the budget will reach a surplus by the 2016-2017 fiscal year.

"It's blatantly obvious - Labor has lost control of the budget and is losing control of the economy," Coalition treasury spokesman Joe Hockey said, pointing his finger at the Labor party for derailing the economy. Hockey added the budget is in a 'free fall'.
The booming mining business has been stunted by low metals prices, and low commodity prices could be a small factor in the budget shortfall. Before the metals pricing slump, minerals and natural resources had propped up the economy amidst surrounding global economic recession.

Prime Minister Kevin Rudd is seeking election on a widening deficit instead of austerity measures, which the Aussies view favorably in opinion polls. He may call for an early election as early as September 7.

Growth has slowed to 2.5 percent, still above the 1.7 percent US economic expansion, but much lower than its Pacific counterparts. The May budget projected a 2.75 percent growth rate.

Unemployment isn't expected to drop until at least 2015, according to the updated economic outlook. The jobless is expected to rise from 5.5 percent to 5.75 percent, and is slated to expand to 6.25 percent before returning below 5 percent in 2015.

The weakening Aussie dollar is helping boost natural resource exports, especially in competition with New Zealand, as the Australian dollar hit a 4.5 year low against the New Zealand dollar late July.

The Australian government is also exploring the option of levying its banks in order to collect budget revenue. It would be imposed on banks, and not account holders, but banks have warned they may pass on levies to customers.

Debt: More debt, says bank chief

The National Australia Bank chief executive agrees Australia needs to expand its deficit in order to grow.

''Australia has a debt problem: we don't have enough,'' Cameron Clyne said on Thursday.
Clyne believes Australia has a 'unique window' as AAA-rated country to issue more government debt in order to fund domestic infrastructure and growth.

At present, Canberra has a $300 billion cap on government and securities borrowing for 2013, but this limit may need to be raised according to Clyne.

''If we continue to have the debate that suggests that all debt is bad, and not a debate on the productive use of debt, we will simply not be able to fund the infrastructure this economy needs to thrive into the future," said Clyne.