Market Buzz: Rally likely on news from Bernanke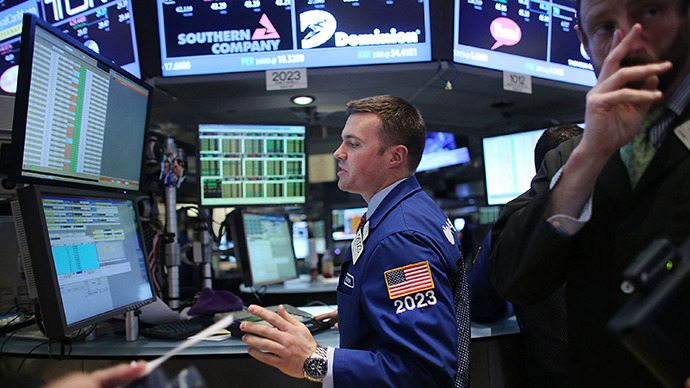 World stocks are likely to show gains on the news that the US Federal Reserve is going to continue its current pace of purchasing treasuries, or QE3, as Fed Chair Ben Bernanke testified to the US Senate on Tuesday.
Uncertainty over Italy spilled over onto trading floors on Tuesday, and Russian commodities saw a significant across-the-board decline. The EU is the main market for Russian exports; about half of OAO Gazprom's energy sales are tied to Europe.

Russian indices closed in negative territory on Tuesday, with the MICEX falling 1.3% to 1485 and the RTS going down 2.2% to 1531. The Russian ruble fell 0.4% to 30.6345 per dollar, its weakest level since December 25, 2012.

Gazprom, the world's biggest natural gas producer and Russia's largest company, fell 0.4% to $8.91 a share in New York, and fell 1.1% to $4.46 in Moscow on Tuesday. Norilsk retreated 2.3 percent to $17.91 a share in New York, after shares declined 1.4% to 5,493 rubles – about $179.05 – in Moscow.
European stocks also closed in the red, as investors worried about the impact of Italy's election deadlock and the country's inability to pay its debts. Britain's FTSE 100 shed 1.3%, while Germany's DAX lost 2.3% and the French CAC 40 dropped 2.7%.

In the US, the Dow Jones gained 0.8%, the NASDAQ rose by 0.4% and the S&P 500 increased 0.6%.

At 14:00 GMT Wednesday, business climate indices will be released for Finland, Germany, France, Denmark, Italy and Portugal, reflecting consumer confidence and industry expectations.
Asian indices have mostly risen following the good news from the US. The Hang Seng added 0.4% and the Shanghai Composite rose 0.3%. In Japan, the Nikkei slid 0.7% on the strengthening yen.
Oil, Russia's most lucrative export, fell 0.5% to $92.63 a barrel in New York on Tuesday, and Standard & Poor's raw materials index dropped 0.8% to a month low of 653.56.
Brent prices grew slightly at just under 0.05%, averaging $112.8, after news that US gas reserves shrank more than expected and Bernanke's signal that QE3 will continue. During his appearance at the US Senate on Monday, he defended further asset purchases, just as Wall Street started to question if the central bank will scale back its monetary stimulus later in 2013. Despite a recent spike in gas prices, Bernanke noted that overall inflation has remained low, giving the Fed plenty of room to act.

You can share this story on social media: