Market Buzz: Oiling the floors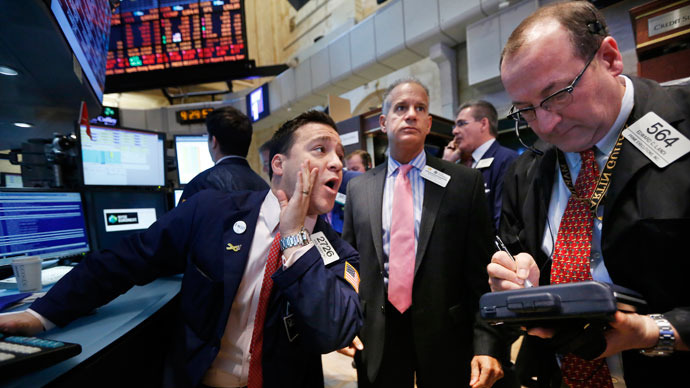 There is still hope that Russian stocks will be positive on Friday thanks to oil prices which are returning to growth. That's after Thursday trading session ended in significant drops of the world's main stocks.
Oil prices dipped on Thursday to US$113.46 a barrel for Brent, but the price has since risen 0.5% and reached $114.11 by the start of the session.
"It is not clear what to expect for Russian indices on Friday, but there might be weak growth at the start following the news on oil prices going up. During the day the indices might follow the news from the world's stocks, but it is not likely that the Thursday's sales will be repeated," Andrey Shenk from Investcafe says.

On Thursday Russian stocks continued their plunge, following the downward trend triggered by the news from the Fed and absence of positive events. There was a lot of negative news to digest – macro statistics from the US appeared to be worse than expected, prices for gold kept declining. Also, the PMI in some key economies of the eurozone, including France, appeared to be worse than expected and no good news came from unemployment data in the United States. As a result the MICEX dropped 1.26% to 1492.3, while the RTS lost 2.14%, down 35.3 from the previous day to 1547.3.
On Friday, European stocks will start their session with the final data on German GDP for 4Q 2012, with this data being the key factor for the local markets. No important news are expected in the region, except the business expectations for February, that is why the moods on European markets will be largely dependent on external factors, such as trading in Asian stocks.

In the United States bourses will be feeding on corporate news as the companies' yearly reports keep coming. As Friday will likely be not eventful for US stocks, they are likely to stay in weak correction throughout the session, but on Monday the volumes of purchases may start growing. 
In Asia the situation is mainly negative, which is not likely to help Russian stocks at the day's opening. Asian stocks are showing mixed results. Japan's Nikkei 225 is down 0.18% on news that the prospects for national corporations' sales in crisis-stricken Europe are getting worse, despite the fact that the yen is still dropping against the dollar. Indices in China are continuing their downward movement as real estate prices have been going down in half of its cities in January. At the same time indices in South Korea and some other Asian countries are rising.

You can share this story on social media: