Market Buzz: Asia drags, US and EU closely watch Egypt
Published time: 3 Jul, 2013 06:31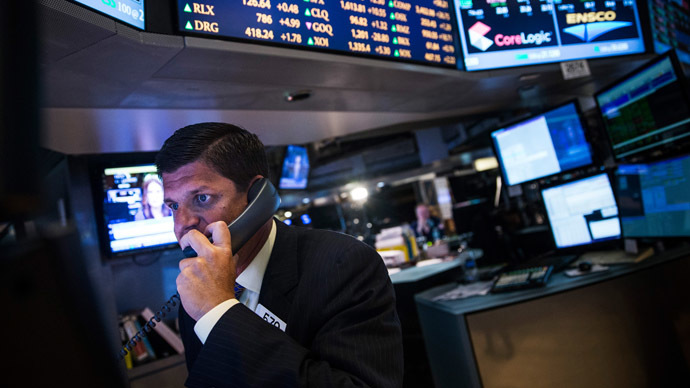 Poor investment climate continues to plague the Russian stock floors, but traders look to make small gains before the end of the week.
Russia's second largest lender, VTB, reported a 33 percent profit decrease, forcing the stock to slide early morning, although it rebounded by market close and gained 0.61 percent.

The Micex also took a dive following the VTB news, ending in the red down 0.05 percent at 1,337.26. The RTS index dropped 1.19 percent, but is trading high on at 1,274.49 on Asian floors, still missing the 1,300 benchmark for the tenth day in a row.

Brent oil is up 1.05 percent to 105.09 and crude jumped 2.15 percent and hit 101.74 at 9:46 MST.

Brent oil is currently trading at 103.11, up almost a dollar from market open Monday, and WTI is trading at 97.97, having become sluggish on Asian floors despite making real gains on Tuesday.

European indexes were lower despite positive Spanish unemployment data, as investors carefully eyed peripheral eurozone economics as potential volatile triggers.

London's FTSE 100 index of leading shares dipped 0.06 percent and closed at 6,307.78, even on positive construction activity data, which showed the UK expanded its construction industry at its fastest pace since May 2012.

The Euro STOXX closed at 2603.20, falling 1.24 percent, France's CAC closed at 3,767.48, falling 0.66 percent, and Germany's DAX 30 dipped nearly 1 percent and closed at 7,910.77

US stocks continued to dip on Federal Reserve uncertainty, and at market close, the Dow Jones Industrial Average finished down 0.28 percent, the S&P 500 index trimmed 0.05 percent, and the Nasdaq Composite index was down0.03%.

US factory orders rose 2.1 percent in May from April, beating analysts' 2.0 percent forecast.

On Wednesday the US will release jobless claims and trade balance data. The Institute for Supply Management will release their monthly report on the American service sector industry.
The market remains vulnerable to the political situation in Egypt, as opposition forces and the government forge a political path forward.

Markets in Asia are sluggish, as the Nikkei is down 0.48 percent, currently trading at 14,030.88, following a day of recovering on Tuesday.

Hong Kong's Hang Seng index has dropped 1.96 percent and the Shanghai composite is down 1.46 percent.

The New Zealand Exchange 50 index is down 0.17 percent, and Australia's S&P index is also taking a hit, down 2.04 percent after a sharp morning market drop.