Market Buzz: Russia looks to snap sluggish market performance
Published time: 2 Jul, 2013 06:33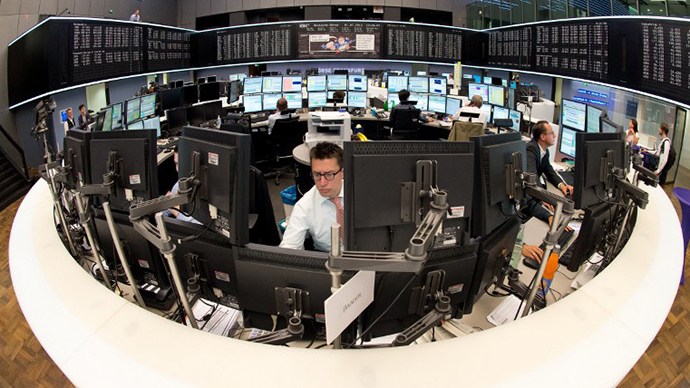 Russian equities will continue their struggle to recover from their year low performance, and make small gains to pre-Federal Reserve announcement levels.
Russian floors traded up on Monday, the MICEX gaining 0.43 percent, closing at 1,336.17, continuing its slight road to recovery after significant loss in May.
Brent oil is currently trading at 103.11, up almost a dollar from market open Monday, and WTI is trading at 97.97, having made real gains but sluggish on Asian floors.
The RTS 50 stock index closed at 1,276.67, down 0.01 percent, and traders will look to hit 1,300, a level the stock hasn't broke since June 18.
European stocks remained high on Monday, as the release of mixed zero zone data (high unemployment coupled with improved business confidence).
London's FTSE 100 index of leading shares rose 1.49 percent, the Euro STOXX gained 0.77 percent, France's CAC climbed 0.76 percent, and Germany's DAX 30 ended up 0.31 percent.
The UK will publish their construction PMI index and Spain will release comparative unemployment figures.
U.S. stocks rose on Monday after manufacturing data exceeded expectations, though investors are still moving stocks cautiously as they eye the Federal Reserve's plan to scale back $85 billion in month asset purchasing programs. On Tuesday the US will release official factory order data, which will provide a good reading on production.
At market close, the Dow Jones Industrial Average finished up 0.44 percent, the S&P 500 index closed the day at 0.54 percent, and the Nasdaq Composite index rose 0.92 percent.
Markets in Asia are currently trading mixed on market floors, after June manufacturing data disappointed in China but surprised in Japan.
Data released shows Japan's monetary base has again expanded, now at 36 percent, up from 31.6 percent in May, as Abenomics continue to drive growth through stimulus and monetary easing.
After a midday drop, Japan's Nikkei 225 has recovered to 14,001.92, up 1.08 percent. Hong Kong's Hang Seng fell 0.48 percent and the Shanghai Composite dropped 0.49 percent amid lingering concerns about the strength of Chinese banks.
The Royal Bank of Australia announced they would keep benchmark interest rates at a record low 2.75 percent, as the weak Aussie currency prevents ministers from cutting the rate any lower.