Magnit posts 9M 2010 net profit of 7.169 billion roubles
Published time: 18 Oct, 2010 10:28
Edited time: 18 Oct, 2010 15:36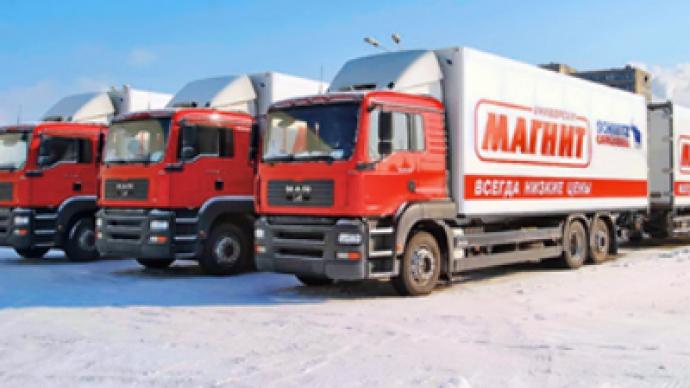 Russian grocery retailer, Magnit, has posted a 9M 2010 net profit of 7.169 billion roubles under IFRS.
The net result was up 22.3% on the 5.861 billion 9M net profit posted for 2009, with 9M EBITDA rising 16.5% year on year to 11.362 billion roubles, as revenues jumped 34.9% year on year to 121.867 billion roubles.
Magnit says the figures reflect the addition of a further 464 stores to the chain during the first nine months of the year, increasing sales space by 28%, coupled with a 6.78% increase in like for like sales. CEO, Sergey Galitskiy, was upbeat about the figures, noting they auger well for the full year, and highlighting capital expenditure as underpinning a buoyant outlook.
"We are delighted to present you our 3Q 2010 results demonstrating steady sales and operating efficiency growth at the rates exceeding market expectations. On the whole the results are in line with our plans. Positive change of LFL traffic and average ticket and rise of new store opening growth rates instill confidence in targeted sales growth of not less than 36% in ruble terms at the year end. At that expectations of EBITDA margin for 2010 are not below 8.2%. Hypermarket opening plans,upgrade of guidance for new convenience stores to 800, increase of investments in transportation and warehousing logistics system allow us to speak of this year CAPEX to stand at 1.2 – 1.3 billion US dollars."