X5 posts FY 2008 Net Loss of $2.145 billion after 4Q write down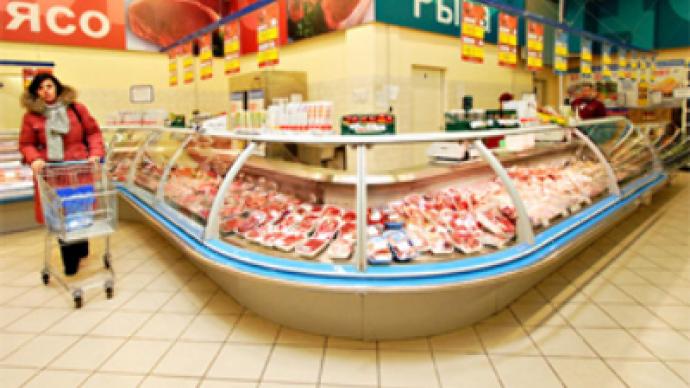 Russia's largest retailer, X5 Group, has posted a FY 2008 Net Loss of $2.145 billion under IFRS.
The bottom line was a sharp turnaround on the FFY 2007 Net profit of $155 million. EBITDA came in at $803.2 million, up 47%, on Sales of $8.892 billion, up 45%.
The Net Loss was largely attributable to a $2.257 Billion non cash goodwill impairment charge incurred in 4Q 2008 mainly relating to the 2006 merger of Perekrestok and Pyaterochka, and which did not affect EBITDA. The company says the charge was triggered by the change in X5's share price, but that it doesn't affect the strategic value of X5's assets, is not indicative of its ability to generate cash flow, and has no impact on bank credit arrangements.
This resulted in a 4Q 2008 Net Loss of $2.283 billion, compared to a Net Profit of $95.2 million in 4Q 2007, with 4Q EBITDA rising 19% year on year to $225.2 million, on 4Q 2008 Sales of $2.376 billion, up 20%.
The company continued to achieve strong growth in sales, with cutbacks in Capital expenditure and prudent financial management and deleveraging helping it to counter the financial crisis, according to Chief Finance Officer, Evgeny Kornilov.
"In 2008 X5 again delivered robust growth in sales and EBITDA, our key indicator of profitability. Our strong finish in the fourth quarter 2008 was driven by X5's rapid and effective response to changes in the financial and economic situation as we scaled back CapEx and used healthy cash generation to improve short-term liquidity. We entered 2009 with a solid financial position, and during the year we expect this to strengthen further through cash flow management, cost control, disciplined investment and deleveraging."
Away from the write down the company was upbeat, reiterating its expectation of 25% sales growth in Rouble terms, and with customers becoming increasingly focused on price, enabling X5 to leverage its competitive position according to CEO Lev Khasis.
"2008 marks a year of milestones for X5 Retail Group. The Company strengthened its number one position in the Russian retail sector and delivered on all of its promises for growth and profitability. In 2009, we will work to further enhance X5's value proposition to win customers and drive increases in sales and market share, while building financial strength. Our ultimate goal is long-term outperformance, and we believe focused execution of X5's multi-format strategy offers our shareholders the best opportunities for durable, profitable growth."
You can share this story on social media: