Cutting the loss: Western firms eye Libya exodus as oil flow clogged by infighting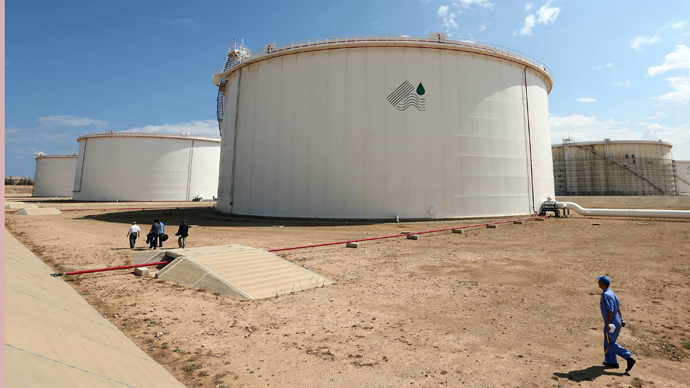 Some oil giants like Austria's OMV and Italy's Eni are considering exiting Libya as the crude production is stifled by internal strife for revenues.The North African country is still recovering from the consequences of civil war and NATO bombings of 2011.
Work at Libya's oilfields and port terminals has been paralyzed lately as workers and armed guards went on a series of strikes. The national crude output plunged from 1.4 million barrels per day at the start of the year, to between 100,000 and 200,000 barrels per day, cutting the revenues of the government and international operators by about $100 million daily.
At the heart of the conflict is the quarrel between Prime Minister Ali Zeidan's central government in Tripoli and unruly local authorities in the oil-rich regions. The government has little control over regional militias, so giving some them guard jobs in the oil industry was part of its way of finding some balance of power.
But apparently the agreements didn't pass the test of time, and Libya's oil production went from unexpectedly good results of 2012 to the current crisis. So far there is no clear end to the confrontation, and foreign oil companies now fear that it can last too long for them to continue investments. Some are already hedging their bets, reports Financial Times.
Last month Austria's OMV spent $2.7 billion buying oilfields in the North Sea from Statoil. 
"If you see that in the Middle East and north Africa you have unstable situations then it definitely makes sense to have more production in stable regions," OMV told the newspaper.
Italian Eni seeks to diversify away to Asia in particular even though gas production from offshore fields in Libya, which were not affected by the ongoing crisis, has cushioned the company from the worst of it.
American Marathon Oil, which depends much on Libya for output, was reported to have put its stake in Libya up for sale in July. ConocoPhillips has said it plans to exit countries where it has limited growth potential and little operational control.
On the other hand Spain's Repsol says it is "absolutely committed" and has continued drill exploration wells in 2013.

Foreign investment into Libyan oil sector had a good starts after the industry was opened under Muammar Gaddafi.
 "Libya was the focus of industry excitement about new investment from 2004 to 2007," Catherine Hunter, north Africa analyst at IHS Energy in London told FT. "The resource is still first class, but the above ground problems are hugely challenging."
The Gaddafi government maintained strict control over oil revenues, which were used to finance Libya's vast social programs and investment in foreign markets, among other things. The public uprising, which led to a civil war, a NATO bombing campaign against Gaddafi's troops and the strongman's eventual death, was to a great extend motivated by the desire to redistribute those spending in favor of the regions. 
More than two years after Gaddafi's downfall Libya has serious security problems, still waits for a new constitution to be adopted and faces a prospect of disintegration as some provinces seek more autonomy from Tripoli.