​Fatal finance? Bankers in Netherlands, Liechtenstein found dead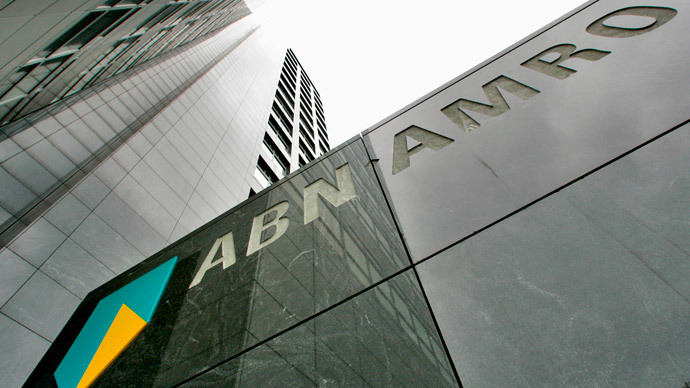 A former executive of the Dutch bank ABN AMRO has committed suicide after killing his wife and daughter, and the head of Liechtenstein's Bank Frick has been found shot dead in a car park. The suspect in the Frick shooting had a grudge against the bank.
Jan Peter Schmittmann, the 57-year old former head of domestic operations at ABN AMRO was found dead on Saturday in the wealthy Amsterdam commuter town of Laren. He was discovered along with the bodies of his 57-year-old wife, and 22-year-old daughter.
"The mother and daughter were killed by the father, after this the father killed himself," Reuters cites a police statement. Police said that Schmittmann left a suicide note, but did not provide any further detail.
Family members said that Schmittmann had suffered from serious depression.
Schmittmann left the bank in 2008 after nationalization, At the time ABN AMRO was one of the largest banks in the world, a household name and a symbol of Dutch financial strength. As compensation he was promised a $21.99 million pay off. In the end he got only half, as Finance Minister Wouter Bos considered the sum exorbitant.
Since 2010 he was the owner and director of 5 Park Lane, a company that advised private equity investors.
This is the second unusual incident related to ABN AMRO in the past five years. In 2009, former chief financial officer Huibert Boumeester was found dead in woodland near London in an apparent suicide a year after he had left the bank.
In 2007 Royal Bank of Scotland, acquired ABN AMRO at the height of the economic boom for $100 billion. But the financial crisis forced the Dutch state to nationalize its domestic operations, resurrecting the ABN AMRO name.
On Monday, another bank chief executive was found dead in Liechtenstein.
Juergen Frick, the 48-year old head of Liechtenstein-based Bank Frick was found shot dead in a car park. Police believe Juergen Hermann, a former fund manager, shot the banker and then took his own life, according to Swiss media.
Police said they believe Hermann, who escaped from the scene may have taken his own life. They said they found his abandoned car with his passport and a confession that included "parting words".
On the suspect's website, he refers to himself as the "Robin Hood of Liechtenstein" and is reported to have spent years acting against Bank Frick and the Liechtenstein authorities over financial matters.
These recent fatalities add to the growing number of suicides and mysterious deaths in the financial world. Three sudden deaths at JP Morgan and 6 in the global financial world happened in just few weeks in February.
Financial jobs are notorious for extra-long hours and huge level of stress.
You can share this story on social media: