Corporations sponsor sexual orientation research study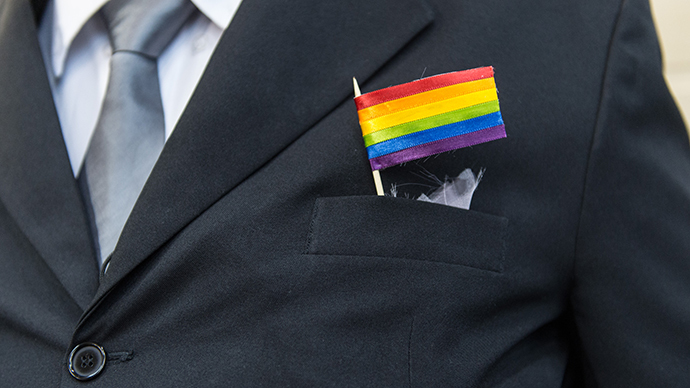 Big business names like Deloitte and General Electric are trying to become more LGBT friendly, as they are funding research that will study the challenges of gay, lesbian, bisexual, and transgender employees in multinational organizations.
Firms across all sectors- oil and gas, finance, consulting, insurance, pharmaceuticals, journalism, technology- are sponsoring research by the New-York based Center for Talent Innovation (CTI), which will examine the benefits of an LGBT inclusive workplace and will publish its findings in 2015.
Sponsored by 86 companies and chaired by household names like Deloitte, Ernst & Young, General Electric, Bank of America, Bloomberg, and Goldman Sachs, the research aims to make work life for LGBT staff more comfortable.
Co-Chairs of Center for Talent Innovation

American Express
Bank of America
Bloomberg LP
Booz Allen Hamilton
Bristol-Myers Squibb
Cisco Systems
Deloitte
Deutsche Bank
EY
GE
Goldman Sachs
Intel Corporation
Johnson & Johnson
Merck Serono
NBCUniversal
Pearson plc
Time Warner
More and more companies support gay rights especially in developed financial centers like New York, London, and much of Europe, where gay equality rights are written into law. Now the CTI wants to tackle emerging markets like Brazil, Russia, India, China, Turkey, South Africa, and Indonesia, where human rights aren't guaranteed to the same degree as in the West.
"Increasingly when you're working in at least some of these countries, the local culture is going in the wrong direction [for LGBT employees]," Sylvia Ann Hewlett, CTI founder, told the Financial Times.
Sylvia Ann Hewlett started the CTI 10 years ago under the name Center for Work-Life Policy, and believes by coming out, LGBT employees are exposed to more networks, and business opportunities.
Human Rights Campaign runs a yearly study called Corporate Equality Index which rates workplaces on their LGBT equality policies. The most recent study shows that only 54 percent of firms have specific LGBT language included in their global company non-discrimination policy.
his will be the third LBGT-themed publication for the non-profit think tank. In 2011 it published 'The Power of 'Out': LGBT in the Workplace" which was followed up in 2013 by a repeat study.
The first 2011 study found that concealing one's sexuality at work had adverse affects on employee morale. Employees surveyed said they were 40 percent less likely to trust their employer if they kept their sexual orientation a secret, and 73 percent more likely to leave the company than openly gay team members.
"For me, being able to come out enhanced my ability to connect with people at work, which has helped me tremendously," Johann Shudlick, vice president in Goldman Sachs' investment banking division, told CNN. Shudlick worked for the first 20 years at the company in the closet. When he finally came out, his identity was accepted and his colleagues supportive.
However, not all executives feel comfortable sharing their sexual orientation in the business world.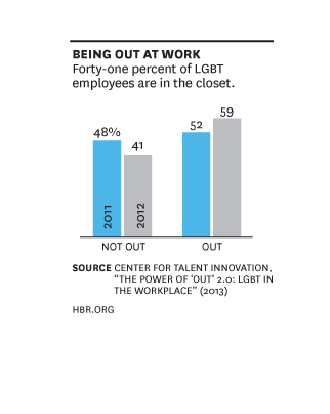 Lord Browne, the former chairman of BP, Europe's second-largest oil company, made headlines when he left the company and lambasted the business world for being "intolerant of homosexuality". He resigned in May 2007, following a scandal that involved a male escort that revealed his sexual orientation. He recently told the BBC he was forced to live two separate lives, his own, and the heterosexual role that was acceptable at work.
Fifteen years ago, Erika Karp, a managing director at UBS Securities, came out to her colleagues, and believes the modern day work place is much more tolerable to different sexual orientation than it was when she first shared her secret.
"The industry is less likely to make decisions and form opinions just on the virtue of someone being gay," she told CNN in an interview.
Wall Street is increasingly trying to make the environment more tolerant for openly gay men and women, as they see the lifestyle as a positive, not a negative.
Companies find it beneficial to advertise they are gay friendly, because it boosts customer brand loyalty, as consumers often prefer to support companies that provide equal workplace benefits.
Workplace inclusion of lesbian, gay, bisexual, and transgender employees has accelerated as LGBT tolerance is being written into company policy in the same terms as racial, age, and gender discrimination.
Many organizations in the US are pushing for LGBT executives to go public with their sexual orientation to encourage other more junior associates to follow suit. OUTstanding in Business is one network that aims to broaden the LGBT community in FTSE 100 and S&P 500 companies.
You can share this story on social media: