Putin opposes homophobia, reiterates state stance on gay propaganda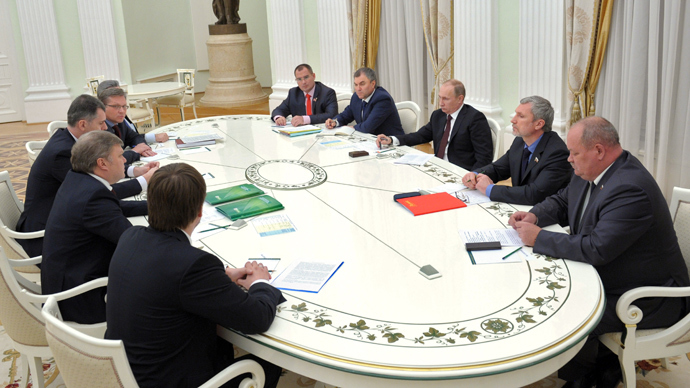 President Putin has said that the authorities must prevent any sort of intolerance in the community, including negative attitudes towards sexual minorities.
Putin made this statement during his meeting with the leaders of non-parliamentary parties. He also defended the much-criticized Russian law that imposes restrictions on propaganda of non-traditional sexual relations.
"You know that I have heard a lot of criticism in my own address, but everything we did at the government and legislative level – all of this was connected to limitations on promotion among the underage," he said.
The meeting, dedicated to the 20th anniversary of the Russian Constitution took place in Moscow on Wednesday afternoon and was attended by representatives of eight major parties, ranging from the pro-business Civil Platform to the Communists of Russia.
Putin told praised the politicians for their work and said that the fact that the new Russia had over 70 officially registered parties in just 20 years of the history of its modern Constitution.
He also assured that the authorities had no intention to restrict the work of smaller political projects and promised to work on the continuation of the political reforms.
"I agree that we must assure the equal participation of all parties in the political life. We have no intention to strangle or snub anyone," the president noted, suggesting the small party leaders "think together on how not to turn the mutual efforts in party building into an absurd." 
"We must work so that the multi-partisan system is strengthened rather than profaned and we must ensure the equal access [of all parties to elections at all levels]," he noted.
Putin added that conflicts were an inherent part of political life, but should not be exaggerated or presented as a sort of a civil war.
"The more we use such terms the more problems we would have. All political parties must shun extreme formulas in their rhetoric.The only place without conflicts is a cemetery. There everything is quiet and calm. Conflicts are normal events, our task is to find civilized solutions to conflicts to find a way out that will strengthen the society rather than destroy it," he said.
The president and the politicians also discussed the planned major amnesty dedicated to the anniversary of the Constitution and promised to thoroughly study the so-called 'list of political prisoners' presented by the head of the RPR-PARNAS party, Vladimir Ryzhkov.
The names on the list were not disclosed, but earlier various Russian Human Rights advocates classified as political prisoners the members of the Pussy Riot punk band (serving their sentences for hooliganism), the participants of the Bolotnaya Square riot (charged and partially convicted of attacking police officers and organizing mass disorder) and lately the participants of the Greenpeace action at the Prirazlomnaya offshore platform (charged with hooliganism and – mostly - released on bail).
In an interview to the Slon.ru news site, that was released shortly before Putin's meeting with politicians, presidential press secretary Dmitry Peskov said that there were no political prisoners and called the protests over such inflated problems "social nihilism."
You can share this story on social media: