Boost borrowing limit and spend trillions, but taper carefully – Lagarde tells US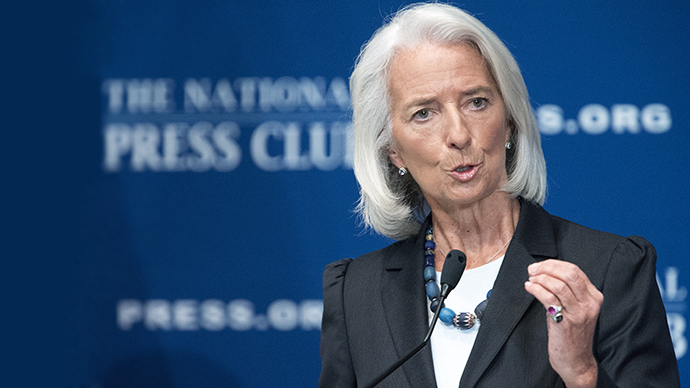 International Monetary Fund Director Christine Lagarde has urged the US to promptly increase its borrowing limit, and warned the Federal Reserve to carefully wind down its $75 billion bond-buying program, as the global economy is still very "fragile".
"It will be critical to avoid premature withdrawal of monetary support and to return to an orderly budget process, including promptly removing thedebt ceilingthreat," Lagarde said addressing an audience at the National Press Club in Washington on Wednesday.
Lagarde also said global recovery was still "fragile" and US policymakers needed to take this into account, especially in winding down the $75-billion-per-month bond buying stimulus program, which when removed, will have serious global economic repercussions.
The Fed's "easy money" program has been pumping billions of dollars into the economy, which propped up equities and markets after the 2008-2009 financial crisis.
On Wednesday the US House of Representatives House passed the $1.1 trillion bipartisan spending bill, which guarantees the US will have enough money to pay its bills and run the government through September 30. The House approved the bill 359-67, and next will be sent to the Senate for approval, and then President Obama, both of which are expected to happen without fuss.
The two-year budget agreement will hopefully usher in a new era of cooperation in Congress, which has been viciously divided over raising the debt ceiling to fund the budget.
This is Congress's first budget deal since 2011, and has ended months of political tug-of-war in Washington, which resulted in a partial government shutdown for 16 days in October. The shutdown cost the American economy an estimated $24 billion by rating agency Standard & Poor's estimate, and sent waves of panic through global markets.
After months of infighting between Democrats and Republicans over increasing the debt ceiling to fund the budget, a deal seems to be in place to avoid the February 7 deadline.
"We are all very pleased to see an orderly budget process is back," Lagarde said.
Global Ripple
If the US missed the February 7th debt ceiling deadline, the world's largest economy would technically default and the global financial system could enter a recession worse than 2008.
A US-default would "have financial consequences that will apply not just to this country but across the globe," Lagarde said in October.
The outstanding debt of the world's largest economy is currently $17 trillion.
A lot of this debt is owned by other countries, in the form of Treasury bonds, so a budget deal is good for everyone. China, for example, holds $1.3 trillion of America's debt.
Worldwide, the IMF projects 3.6 percent economic growth in 2014, a slightly more optimistic than the World Banks' 3.2 percent expectation, released Tuesday.
You can share this story on social media: