IMF head: High unemployment and poor investment – key economic burdens
Published time: 6 Sep, 2013 14:53
Edited time: 6 Sep, 2013 14:58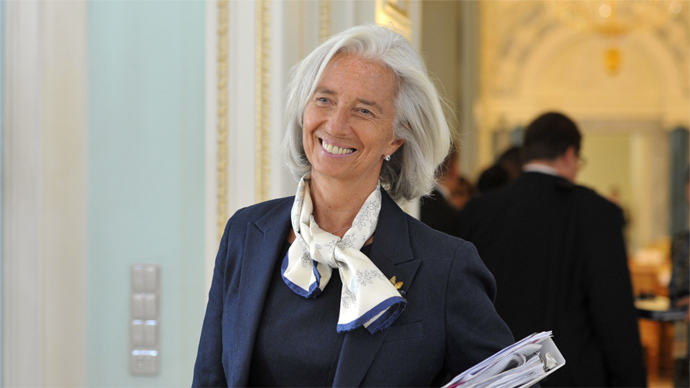 Creating jobs and providing long – term investment are the key common objectives that rallied G20 leaders at the St. Petersburg summit, the IMF head Christine Lagarde, told RT.
"Clearly the focus of the Russian presidency are jobs and growth and long-term financing," the IMF head said talking to Business RT at the G20 summit.
"Sustainable growth, combined with appropriately paced fiscal consolidation, as well as the creation of jobs … we hope, conducive to addressing the crisis risks going forward," Lagarde added.
The need to tackle high unemployment, mostly among the young, dominated the G20 meetings on Friday.
"For all that has been done, unemployment in G20 countries remains above pre-crisis levels", Putin said. "Although the situation differs from country to country, there are some very acute problems that affect most G20 countries," he said. "They include high unemployment among young people, and so-called structural unemployment. The proportion of skilled specialists who cannot find the appropriate jobs is soaring," Putin added said
Higher unemployment is driven by a whole range of problems, among them the "fragmentation of the European Union's banking system, the contraction of the fiscal space, reduction in the credit potential of development banks and tighter financial regulation," the Russian President added.
The lack of long – term investment is another problem that various economies across the world are now facing. The global economy loses about $1 trillion a year because of inefficient investment in infrastructure alone, and the world faces $60 trillion in infrastructure needs through 2030, according to Kirill Dmitriev, CEO of the Russian Direct Investment fund. Economic growth will add 3 percent if the G20 reduces restrictions on capital flow, encourages private capital in infrastructure, and makes infrastructure investment more efficient, Dmitriev said talking to RT.