Japan first country to extract 'frozen gas' from seabed
Japan's largest energy surveyor said it has succeeded in extracting gas from undersea frozen gas deposits, known as 'burning ice.' Japan is pioneering in the industry in a move to lessen its dependency on fuel imports.
A report issued by state-run Japan Oil, Gas and Metals National Corp (JOGMEC) said the gas was tapped from deposits of methane hydrate, a frozen gas near Japan's central coast 80 kilometers off Atsumi Peninsula in Aichi Prefecture.
Methane hydrate is a sherbet-like mixture of methane and water formed under certain pressure and conditions. It is often found in Siberian and Alaskan permafrost, and under areas of seabed deeper than 500 meters. Methane is a major component of natural gas, and countries like Canada, the US, Norway and China are also seeking to exploit hydrate deposits as an alternative source of energy.
Japan's production tests will go on for two more weeks, at which point analysts will calculate the volumes of gas production, its costs and possible environmental effects.
Energy researchers estimate there are at least 1.1 trillion cubic meters of methane hydrates near the country's Atsumi Peninsula, enough for about 11 years of Japanese gas consumption; in total, the seas around Japan could have enough gas to supply the country for the next 100 years.
Aleksandr Nazarov, oil and gas expert from Gazprombank, told RT that extensive work needs to be done before alternative production can bring changes to the dynamics of Japan's energy supplies: "Frozen gas extraction does not yet have enough technological base, neither has its cost-effectiveness has been calculated."

The environmental risks are also high: "All works with alternative gas production are posing constant risk to the environment," Nazarov explained. "Nuclear energy, even though potentially dangerous, does not contaminate the environment in its regular course of things. It's all about the balance of risks. We are yet to find out how dangerous can be even the alternative production methods if they endure incidents similar to the earthquake and tsunami that took place in Japan two years ago."

The gas is produced by the depressurization method, which is thought to be more effective than the hot water circulation method Japan successfully tested in 2002. Japan is the world's top importer of liquefied natural gas, and has been investing heavily into domestic exploration to cut foreign dependence.

The pressure for domestic hydrocarbon exploration has grown dramatically since the country was forced to shut down all of its nuclear facilities after the Fukushima nuclear disaster in 2011. Only two of country's reactors were later put back online. Another six reactors may be reactivated by the end of the year, despite rising anti-nuclear sentiment in the country. Thousands have rallied in Tokyo for a total ban on nuclear energy, a luxury the Japanese government cannot currently afford without an all-encompassing energy source.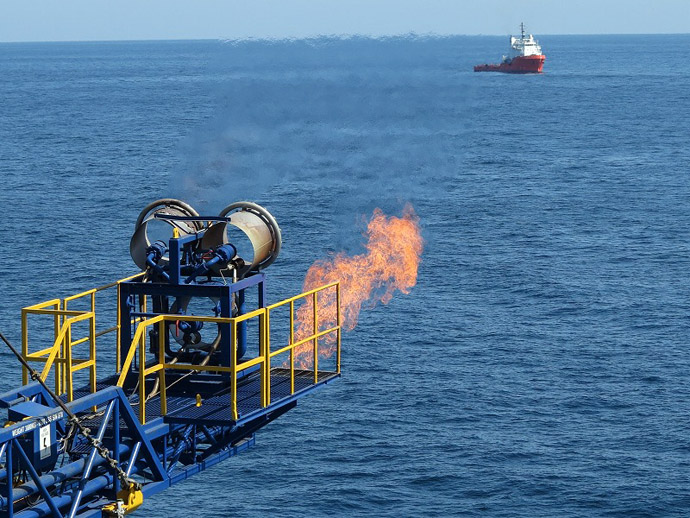 You can share this story on social media: