Japan hit by suffocating smog from China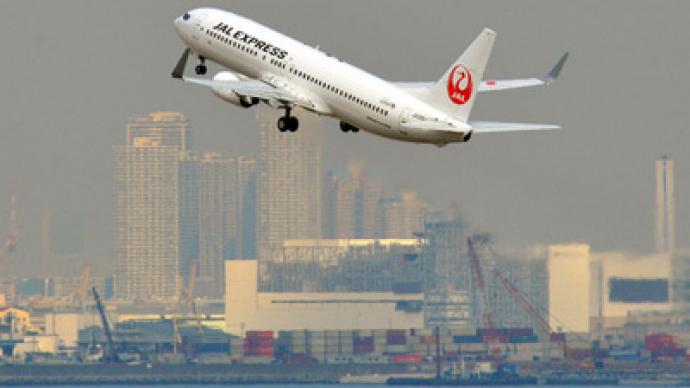 Health warnings have been issued across Japan as the thick smog engulfing China has begun to move over the island nation; pollution levels across the country are reportedly skyrocketing.
­"Access to our air-pollution monitoring system has been almost impossible since last week, and the telephone here has been constantly ringing because worried people keep asking us about the impact on health," an environment ministry official told AFP.
Air pollution over western Japan has far exceeded government standards recently – up to 42 percent in some cases – straining the already-tense relations between the two Asian countries.

"China is our neighbor, and all sorts of problems happen between us all the time," local resident Takaharu Abiko told AFP. "It is very worrying. This is dangerous pollution, like poison, and we can't protect ourselves. It's scary."
Japanese officials and scientists have said that citizens should not panic over the pollution, as the smog was not as bad as in similar incidents two years ago. In 2011, a cloud of suffocating smog hung over western Japan for several days.

Authorities have also warned that people with respiratory illnesses and small children should take extra care to protect themselves from the health hazard.
More air pollution will arrive in western Japan on Tuesday, the Japanese Ministry of Environment said, adding that the country's skies will start to clear by Wednesday.
About three weeks ago, China was struck with a major upsurge in air pollution levels. By the end of January, the government was forced to announce that the air pollution presented a health threat. The increase in pollution is mostly a result of the boom in factory manufacturing in China.
The photos below show various sites in China that experienced heavy air pollution in recent days

This combination of photos shows a file photo of the Guotai Chambers building from the historic Jingshan Park (top) during heavily polluted weather on January 31, 2013, and during clear weather (bottom) on February 1, 2013 (AFP Photo / Ed Jones)
This combination of photos shows a section of the Beijing skyline (top) during heavily polluted weather on January 30, 2013, and during clear weather (bottom) on February 1, 2013 (AFP Photo / Ed Jones)
This combination of photos shows a file photo of Beijing's Forbidden City during heavily polluted weather (top) on January 31, 2013, and during clear weather (bottom) on February 1, 2013 (AFP Photo / Mark Ralston / Ed Jones)