Italy pledged $5,5 billion spending cuts
Published time: 3 Jul, 2012 15:02
Edited time: 3 Jul, 2012 19:02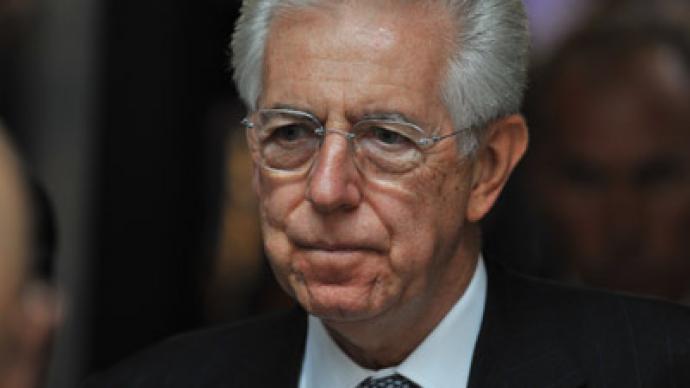 Italy has pledged to make cuts of $5.5 billion in state spending over the next six months, as the government seeks ways of saving the country's economy without financial help from the EU.
­Italy is to unveil another savings package this week in a bid to rescue the country from the debt crisis. Italian Premier Mario Monti wants to head off a hike in value-added tax from 21 to 23 percent that is otherwise scheduled to come into force in October.

The Italian Prime Minister has pledged to cut budget spending, especially on social needs, reforming the labor market and carrying out huge tax reforms, including property tax.

Monti brushed off political criticism that his government was relying too much on new or higher taxes to reduce Italy's debt. He blamed stubbornly chronic tax evasion for being one big reason new taxes were needed. Monti also fingered as a culprit what he called the "hidden tax of corruption in public contracts and hiring."

Monti has also outlined job reductions and other public administration cuts, provoking strike threats from the powerful labor unions.

The cuts could include overall personnel reductions of 10 percent and a 20 percent slashing of the number of state managers.
Monti also blamed the "shadow" economy for swallowing up around 20% of the country's GDP and promised that the new government would lead the country out of the "shadow" sector.

Earlier Monti's government adopted a set of measures they hoped would allow them to save their country without a bailout from the EU.  

The Italian Premier is a staunch supporter of issuing euro bonds, an idea strongly opposed by Germany. Monti thinks that sooner or later the Eurozone will have to accept that.