Industrial output data turns the corner, as economists wait for more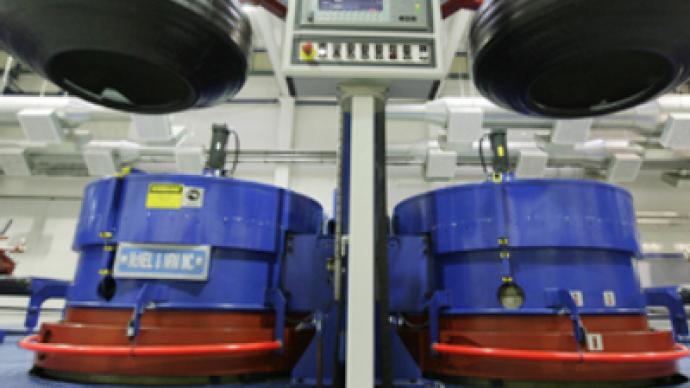 Russian industrial output increased in November for the first time since the autumn of 2008.
According to data from the Russian Federal Statistics Service, November Industrial output was up 1.5% year on year, after falling more than 11% in October. The data comes in the wake of 9 successive interest rate cuts by the central Bank of Russia, and with crude prices for the month averaging in the high $70/bbl range.
Despite the positive figures Danila Levchenko, Chief Economist at Otkrytie doesn't think they represent an imminent economic rebound.
"Personally I'm absolutely neutral about industrial production growth in November, as these figures are short term and, to my mind, don't reflect a real growth of Russia's economy. That was mainly due to a seasonal factor, when electricity production, for example, increased during cold months in winter. Excluding that, the real growth in November 2009 would be about 0.2%. On top of that, a year ago, in November 2008, there was the first serious drop of 8.7%, so the effect of a low base is also there."
Also wary of the data is Valery Mironov Chief Economist at the fund for economic research "The Development centre." He also notes the dramatic slump in November 2008 as providing a significant backdrop.
"Actually, the industrial growth of 1.5% has long been expected, but it's mostly technical. Year on year growth can be largely explained by a drop of 8.7% in November 2008. 2% growth in month to month figures reflects a seasonal factor, with the whole economy usually growing in 2H by about 15% compared to 1H due to harvest processing and higher output in the energy sector. If we look at the volume of transportation, for example, we won't see real growth there. So, Russia's Ministry for Economic Development also says that without the seasonal factor the November growth would be of just 0.2%."
Mironov goes further to note that stronger data will be needed for markets to begin pricing in an economic rebound.
"It's all about simple calculations. If we take those 0.2% of real industrial growth, multiply it by 12 months, we'll have 2.4% growth a year, if the pace of growth remains the same. Now take a 10% drop in industrial output in Russia since the beginning of the crisis, divide it by 2.4 and you'll see that it'll take Russia additional 4 years to return to pre crisis levels. "