Indonesia's controversial ban on mineral ore exports comes into effect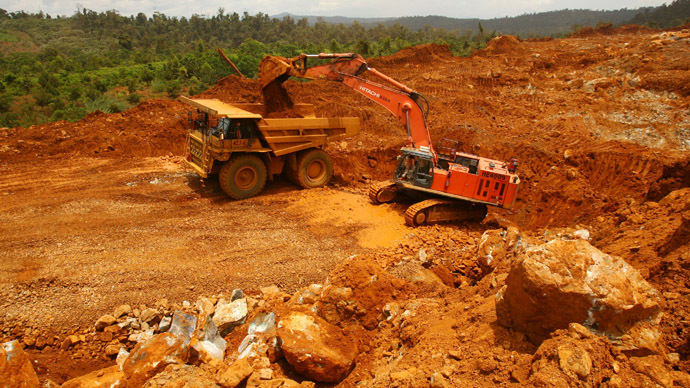 Indonesia, a global leader in exports of mineral resources, has banned its mining companies from selling raw ore abroad. The law, aimed at boosting domestic processing, is likely to cost Jakarta huge short-term revenue losses and cause mass lay-offs.
There also expected global repercussions as the world's biggest exporter of nickel ore, refined tin and thermal coal will curb shipments in an attempt to upgrade the industry, shifting away from selling raw materials by developing domestic processing capacities. Already on Friday the price for nickel rose at the news of reduction in supplies. The rise of 3.6 percent sent the price of a metric ton of ore to $13,784 on the London Metal Exchange.
The government of the Southeast Asian nation originally planned to fully ban exports of raw minerals as well as their concentrates (ores having undergone some processing), but it came up with a last-minute decision to ease the legislation, exempting some of the major miners and allowing exports of concentrates till 2017.
Nevertheless, all raw ores are banned for overseas shipments.
"Starting from 00:00, January 12, 2014, the export of ore is prohibited,'' Energy and Mineral Resources Minister Jero Wacik said, as cited by AP.
The 66 companies exempt from the export ban include US mining giants, Freeport McMoRan, Copper & Gold and Newmont Mining Corp. They have been allowed to continue shipments on condition they'll build smelters in the near future.
The less lucky ones are over a hundred of smaller local miners, who don't have the resources to follow suit and modernize their companies to comply with the new law.
The prospect for the ban has already led to many of them halting their operations and laying off staff.
The National Mine Workers Union had warned the government against enforcing the new legislation before it came into effect.
"We call on all mining workers to prepare to go on the streets and swarm the presidential palace if the government goes ahead with the implementation of the ban," said a Union official, Juan Forti Silalahi, as cited by Reuters.
Government officials have argued developing more smelting capacities at Indonesian mines would in fact create more jobs.
Whatever positive effects the ban might bring about, they won't be felt at once. This year will, according to Indonesian officials, see the country's export revenues dip by about 10 trillion rupiah ($833 million).
You can share this story on social media: