Indonesia burns Australian flags outside embassy as spying tensions mount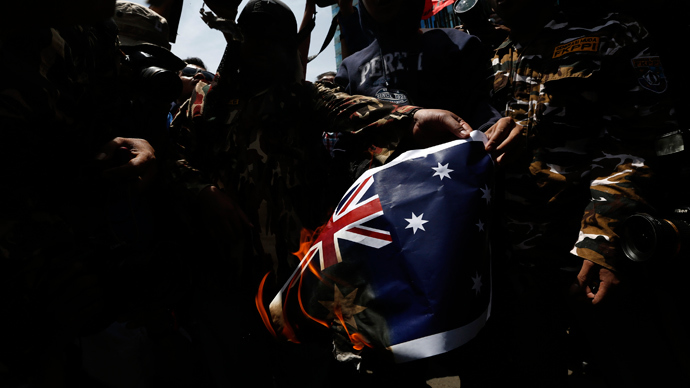 Indonesians set Australian flags ablaze outside the Australian Embassy in Jakarta on Thursday after reports that Australian spies attempted to tap the phones of President Susilo Bambang Yudhoyono and his wife.
Some 200 people marched to the Australian embassy, which had been heavily reinforced in anticipation of the protests. The embassy was the scene of a 2004 bombing that killed 10 people.

One protest banner in the city of Yogyakarta, Central Java, read: "We are ready for war with Australia."

On Monday, it was revealed that President Susilo Bambang Yudhoyono and his wife, high-level ministers and confidants, had all been targeted, according to documents from 2009 released to The Guardian and ABC TV by former NSA contractor and whistleblower Edward Snowden. The same day, Indonesia recalled its ambassador to Australia  for "consultations" over the allegations.

The heightened tensions and new governmental measures indicate that relations between the two countries have plummeted to their lowest point since the late 1990s.

The news came a day after Yudhoyono declared on Indonesian television that he was freezing military and intelligence cooperation with Australia, including over areas such as people-smuggling, intelligence exercises and intelligence sharing.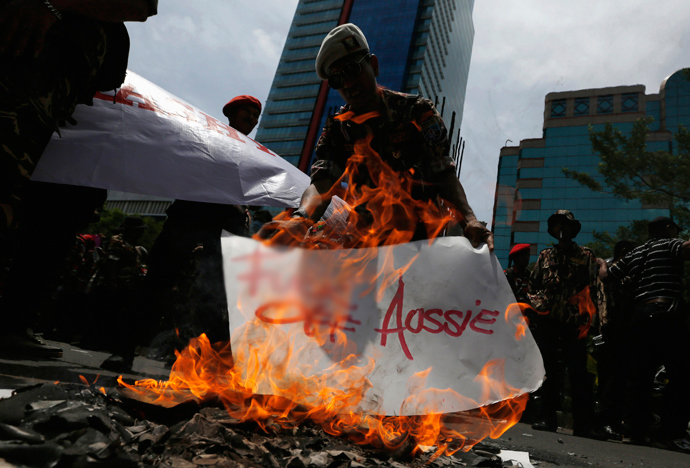 "What's the point of joint training when they don't trust us?" Gen. Moeldoko, the head of the Indonesian armed forces, said Wednesday.

People smuggling has been an ongoing problem between the two countries, and the hiatus was placed on cooperation as an explanation over spying continued to be demanded.

Yudhoyono stated that it had been "in violation of international law," while adding that he didn't know "why it had to happen. Why Australia did it to Indonesia."

Tensions boiled over in Australia on Thursday, as Mark Textor, an adviser to Prime Minister Tony Abbott, tweeted:
"Apology demanded from Australia by a bloke who looks like a 1970s Pilipino [sic] porn star and has ethics to match. #Fairfax demands appeasement." He later added in another tweet: "Twitter is indeed no place for diplomacy."

"I was not referring to anyone in particular, but if you want to imagine someone, that's fine by me," he told AP on Thursday.

Australia issued a new travel advisory warning to visitors to Indonesia at midnight AEDT on Wednesday, saying they should avoid protests and "maintain high levels of vigilance."

"I want Australia to remain Indonesia's trusted partner, now and in the future," Australian PM Tony Abbott told ministers on Thursday.  

Earlier this month it was revealed that Australia and the US had worked side-by-side on a large-scale surveillance operation on Indonesia, during the 2007 UN climate change conference in Bali. In response, a group calling itself Anonymous Indonesia replaced the front pages of over 200 websites with the .au address and the message "Stop spying on Indonesia!"

The Australian Federal Police and Australia's Reserve Bank also confirmed that their respective websites had been targeted by a cyber-attack on Wednesday night, with the Reserve Bank stating on its website that it was "the subject of a denial of service attack."

A twitter user apparently based in Indonesia seemed to claim responsibility for the attack, declaring: "We Are Ready For This war."

You can share this story on social media: