Australian spying scandal may spoil Indonesian business relationship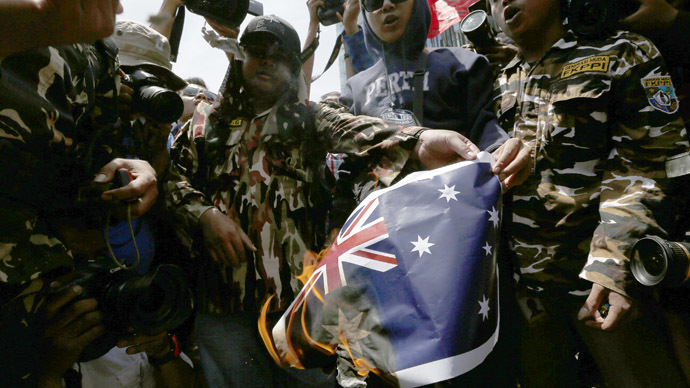 The claims of spying by Australia on Indonesia have spread to the corporate sector, with Rajawali Nusantara Indonesia cutting business ties with an Australian partner citing the lack of trust between the two countries.
PT Rajawali Nusantara Indonesia (RNI), the Indonesian state owned agro-business, has announced it is abandoning relations with an Australian partner due to the rumor that Canberra spied on President Susilo Bambang Yudhoyono and his wife.
Crowds of people protested in front of the Australian embassy in Jakarta burning the Australian flag and images of Prime Minister Tony Abbot. The spying crisis prompted President Yudhoyono to downgrade diplomatic ties with Canberra.
"We decided to halt talks on cattle ranches in Australia temporarily until the Australian government fulfils what the Indonesian government insist they do," RNI Chief Executive Ismed Hasan Putro told Reuters.
Putro said he has already started negotiations with New Zealand companies as alternative candidates to do business with.
In September, RNI started to look closely at Australia, sending a team to explore investment possibilities in three or four existing cattle ranches. The project could be worth up to 350 billion rupiah ($29.91 million) and provide Indonesia with about 120,000 live animals a year.
Indonesia officials say they have reviewed trade ties with Australia that were worth $11 billion in 2012, but beef and cattle imports had not yet been hit.
The country is a major buyer of Australian agricultural products. The main imports are wheat and live cattle. Australia occupies only 10th place in Indonesia's export market.
"Indonesia must take a firm stance with Australia as a country ... but business must not be mixed with politics," State-owned Enterprises Minister Dahlan Iskan told Reuters.
You can share this story on social media: