Greek unemployment set new record high in April, 1.3 million out of work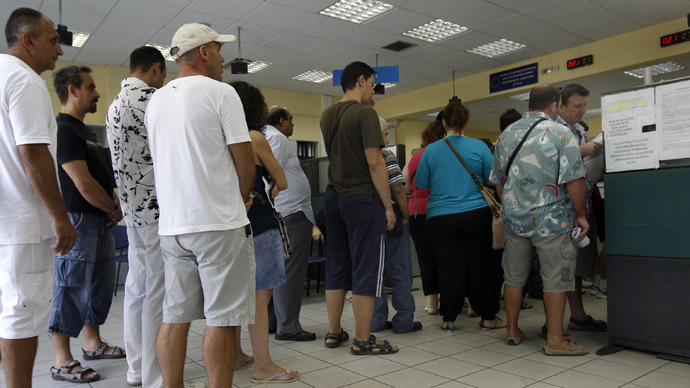 The number of unemployed in Greece keeps on rising, reaching 26.9% in April. That's more than twice the average of the eurozone. More than half the people aged between 15 and 24 are out of work, as youth unemployment hit 57.5%.
Since the start of the crisis in 2009, unemployment in Greece has tripled. In April it added another percentage point from March to 26.8%, according to the country's statistics service ELSTAT.

Greece has lived through years of austerity cuts in return for bailout funds from the troika of international creditors. Part of the result from the painful cuts are between 700 and 1,000 Greeks having been laid off daily.
"The important fact is that almost two in three have been out of work for over 12 months," Reuters quotes economist Angelos Tsakanikas at the IOBE think tank.
Greece's labor market is one the country's sore points and a turnaround there will not be immediate even if the recovery starts next year, as authorities trumpet. 'New heights' are ahead for Greece's unemployment, as the central bank says it's set to peak at 28 percent in 2015 and then starts to ease.
And Greece's labor market is just part of the country's problem, as its GDP is also contracting sharply, with the debt burden gaining weight. This made Morgan Stanley Capital International (MSCI) downgrade Greece's status from a "developed" economy to "emerging". It's the first time this has been done since it launched its emerging market index in 1987.

You can share this story on social media: