Greece finishes talks with Troika, but still split over reforms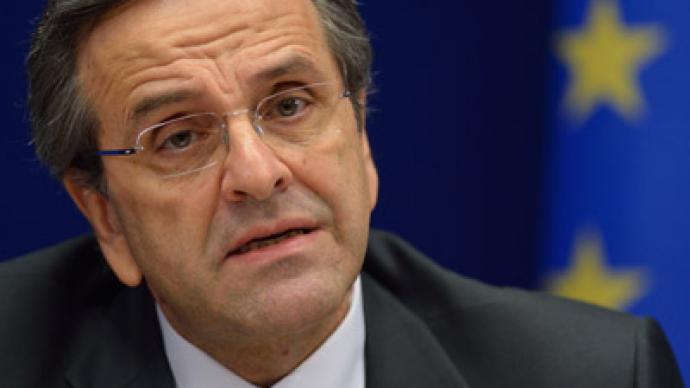 Greece will postpone the vote on austerity measures by a week, after finishing marathon talks with the 'Troika' of creditors over its €31.5bln aid package. The coalition government can't agree over the demanded reforms.
"Today we finished talks on the austerity measures and the budget. We did everything possible," Greek Prime Minister Antonis Samaras said on Tuesday. "Should the agreement be approved [by the Parliament], and the budget adopted, Greece will remain within the Eurozone and will go out of the crisis."Samaras added that Athens had achieved "significant improvement" in the deal on offer, and warned of "chaos" if the measures were rejected by MPs.
However, Greece's coalition government has delayed the vote until next week, as the three parties in power appear split over the new austerity measures."All of the (draft legislation) will be submitted [to the parliament] next week. I think there is no other way to do it," Greek Finance Minister, Yannis Stournaras said.At the moment Greece is seeking another €31.5bln tranche of its second bailout package, amounting to €130bln. In return the country should axe €13.5bln in two years, with the exact ways of reaching the target remaining vague. The so-called Troika of creditors, including the European Union, the International Monetary Fund and the European Central Bank, may ask Greece to implement around 150 reforms within 2 years, Germany's Spiegel said last week. This will include certain changes to minimum wage rules, as well as abolishing professional privileges.The announcement from Samaras has incited immediate reaction from bloggers online. Comments largely ridicule the PM's self-proclaimed 'successful,' negotiations, when in fact "the scale of the austerity that will be heaped on Greeks has increased by billions of euros since the measures were originally mapped out after Greece's second bailout back in March," the Guardian blogger said.Greece's austerity package went from €11.5bln to €13.5B, with €5.5bln of cuts in 2013 turning into €9.5bln.Labor reforms that had long remained an outstanding issue were agreed earlier on Sunday, with no detail revealed.
You can share this story on social media: