European markets on verge of nervous breakdown over Greece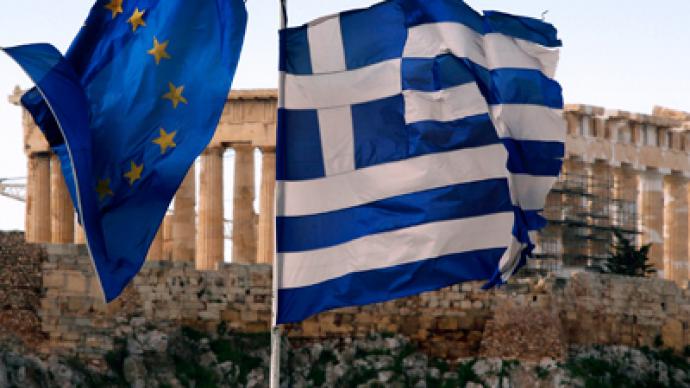 Growing worries about looming new elections in Greece and the country's probable exit from the eurozone are bringing European shares down, while banks prepare for a return of the Greek drachma.
European stocks and banks crashed at the opening on Monday with The Stoxx Europe 600 falling 2%, while other major indices dropped more than 2%. Fears of a new round of economic turmoil in the EU returned as Greek leaders failed to form a government. Greece's President Karolos Papoulias must call a new election if he cannot form a coalition during talks with party leaders on Monday.Earlier, the head of the Democratic Left party, Fotis Kouvelis, said no unity government would be formed as the second-place radical leftist Syriza party, which completely rejects the EU-IMF bailout deal, had refused to join a coalition.Meanwhile the US rating agency Moody's warned that new elections in Greece increase the risk that the country will default and leave the eurozone, which would heavily hit already troubled Greek banks.Greece's exit from the eurozone would result in "a shift in responsibility for bank funding and recapitalization to Greek monetary institutions from European institutions, impairing the banks' capacity to extend credit and support growth for a sustained period," Moody's said in a statement.Also credit rating agency Fitch earlier threatened to put all euro area ratings on negative watch with a risk of a downgrade if Athens were to leave the currency union and return to the drachma.Central banks across Europe, as well as private banks are already discussing the possibility of Greece giving up the euro, and how legal and practical problems with a newly-returned drachma should be handled, says Swedish Riksbank Deputy Governor Per Jansson. The scale of the problems would depend on exchange rates and the legislation Athens would impose for currency trade and capital movement, experts say.Analysts suggest a decision on Greece's future in the eurozone will be made in the next few weeks, as there are not many options on the table. "Either Greece will default and leave the eurozone, or it will continue to fulfill obligations," said Anna Bodrova from Investcafe. "Both options are negative for the euro: the first one is painful in the short term as it leads to higher market volatility, while the second is negative in the long term as Greece won't give up EU financial help so easily".
You can share this story on social media: