Greece 'must try harder' to stay in euro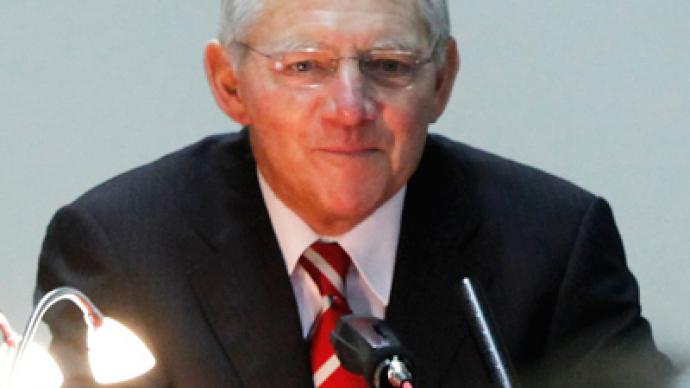 Germany's finance minister Wolfgang Schaeuble pointed out the eurozone would move on even if Greece drops out, stressing the country must fulfill its obligations to stay in the currency union.
"We want Greece to remain in the eurozone. But it also has to want this and to fulfill its obligations. We can't force anyone," Schaueble told the German daily Rheinische Post. The finance minister added that EU countries learned a lot during the years of crisis, and have built efficient protection mechanisms. "The crisis has shown that one must act quickly, and that Europe can act quickly… The notion that we would not be capable of reacting in the short term to something unforeseen is false," he said.Other German politicians have also stressed that Greece can only get help if it sticks to its commitments. "The future of Greece in the eurozone now lies in Greece's hands," German Foreign Minister Guido Westerwelle said during an address to the country's Parliament on Friday. "Solidarity is not a one-way street".Earlier, Germany's former finance minister Peer Steinbrueck suggested Europe should prepare contingency measures in case of Greece's exit from the euro. "If I had political responsibility, I would want to prepare for a plan B that would foresee that the European currency union, that the eurozone, no longer necessarily consists of 17 member states," Steinbrueck said in an interview to German TV.These comments came as Greek political leaders struggle to form a government amid growing anti-austerity sentiment. Wolfgang Schaeuble stressed that cuts are the only way for Greece to clean up its finances as EU countries have done everything possible to help the country."It's very dangerous to try to fool the citizens that there is another, easier way to restore Greece's economy and to avoid difficulties. It's nonsense!" Schaueble warned.Evangelos Venizelos, the Pasok leader and former finance minister of Greece, will be trying to form a unity government on Friday. He is due to negotiate with Democratic Left leader Fotis Kouvelis plans to keep Greece in the eurozone. Venizelos is also expected to touch upon a gradual "disengagement" from the bailout austerity agreement. Other EU nations also have to take measures in line with anti-crisis policy such as reducing the debt burden, Schaeble said after Francois Hollande won France's presidential election on Sunday. His campaign had focused on growth, rather than austerity.  "The fiscal pact is signed by 25 countries. International law requires a new government to stick to the commitments of the former government," he warned.
You can share this story on social media: