Another day, another blow for the euro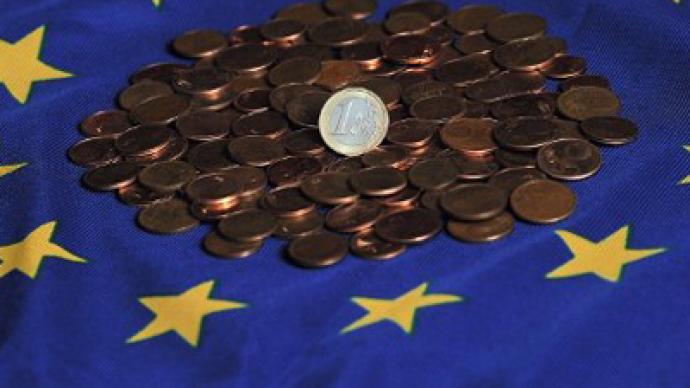 After being blamed for the UK's douple-dip recession by the PM over the weekend, the belaugured currency fell for a third straight session against the dollar on Wednesday, tumbling to $1.3121, its lowest point in more than a week.
Traders pointed to soft European economic data rekindling fears about a deep and broader slowdown in the region.
Fears that were very vocally voiced by the Prime Minister David Cameron on Sunday, when he predicted the euro crisis was "nowhere near half complete" and warned the single currency may yet break up.
Speaking at the start of a week of elections in Europe, including for the French presidency and the Greek parliament, Cameron's suggestion that governance of the euro is not yet resolved will have infuriated the German chancellor, Angela Merkel, as she seeks to steady increasingly nervous markets.
Speaking on the BBC's Andrew Marr Show, Cameron warned, "I don't think we are anywhere near halfway through it because what's happening in the eurozone is a massive tension between the single currency that countries are finding very difficult to adapt to."
"It's going to be a very long and painful process in the eurozone as they work out do they want a single currency with a single economic policy and all the things that go with it, or are they going to have something quite different?"
France goes to the polls next Sunday to decide whether to elect the Socialist François Hollande, the favourite after the first round eight days ago. He has called for a renegotiation of the European fiscal pact to put more emphasis on growth.
Next Sunday, too, votes for the Greek parliament could lead to the election of a bloc opposed to austerity measures regarded as necessary to secure bailout funds. And in Holland, elections have been called for September following Mark Rutte's government's failure to win support for an austerity package.
Merkel has insisted the fiscal pact is not up for debate. She said last week: "The fiscal pact has been negotiated. It has been signed by 25 heads of government. It is already ratified by Portugal and Greece. It is not renegotiable."
Cameron blames political stalemate in Europe for stagnating growth in the UK, particularly the role played by the European Central Bank in managing the European economy. In a major speech at Davos last year, he argued for a structural overhaul of the system including fiscal integration and risk-sharing, perhaps by creating euro-area bonds, as being necessary for the euro to thrive.
Wednesday's euro slump means all eyes will now be on Thursday's monetary policy meeting of the ECB for any major policy signals.
You can share this story on social media: