Greek stampede for savings amid euro exit fears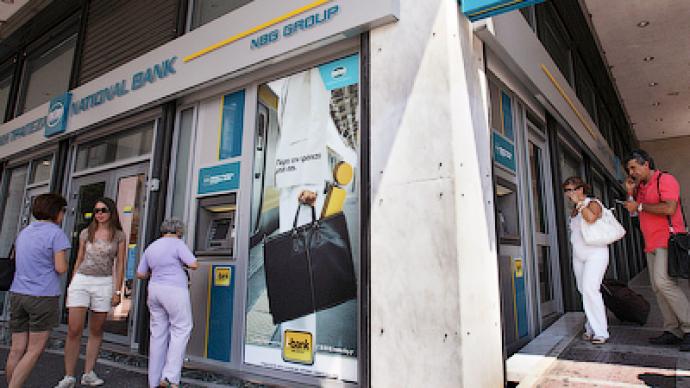 Preparing for rainy days ahead, Greeks have withdrawn 700 million euro from local banks in just one day, after it became clear on Monday that new elections in the country are inevitable.
Together with orders received by Greek banks for German bonds, the withdrawals totaled about 800 million euro, Greek President Karolos Papoulias told party leaders on Tuesday. "Mr. Provopoulos [George Provopoulos, Head of Greece's central bank] told me there was no panic, but there was great fear that could develop into a panic," Papoulis told Reuters.Over the past two years, 2 – 3 billion euro has been withdrawn from Greek deposits every month. In January, the outflow reached 5 billion. Even so, Monday's run on the banks is seen as outstanding. "As Greek banking is almost dead now, it's no wonder that Greeks rushed to withdraw their savings ahead of the new elections in May," said Anna Bodrova from Investcafe. If Athens leaves the eurozone after elections, ordinary Greeks feel they may not recoup their money."The deposit flow will probably increase in the coming days as the country faces new elections and the Greek treasury is running on empty. Greeks are likely to spend their savings on cheap property ahead of the tourist season or transfer them abroad", Bodrova added.According to the latest data from the country's central bank, total deposits held by domestic residents and companies were about 165.36 billion euro in March.Greece's political leaders will meet on Wednesday to form a caretaker government that will oversee a second election in just over a month. Meanwhile, the country will run out of cash by early July if EU nations don't come up with the final bailout payment. The tranche is under question due to growing Greek anti-austerity sentiment, supported by party campaigns.