Greece fails to form new government, going to elections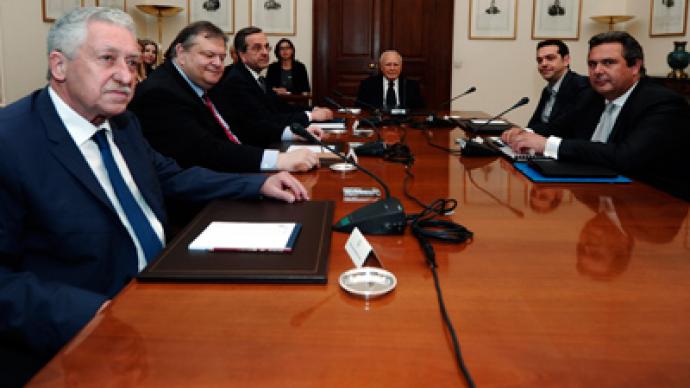 Talks between Greek parties aimed at forming a coalition government have failed. Party leaders will meet President Papoulias to decide on a caretaker Prime Minister and cabinet to govern until the new parliamentary elections.
A new round of political crisis unraveled on Saturday when Socialist party leader and former finance minister Evangelos Venizelos played back from forming a coalition with other parties. Polls suggest the leftist Syriza bloc, which came second in the 6 May vote and rejects all further cutbacks, could become the largest party after a new election.Syriza wants to renegotiate the bailout package but also wants to keep Greece in the euro.However, many experts have already speculated that the new elections will probably accompanied by a drop-out from the eurozone.Greeks are deeply divided over the harsh budget cuts which came as the price for international cash injections. The split greatly influenced the results of the recent parliamentary election, with no party gaining enough seats to form a government.
You can share this story on social media: