Greece gets a lifeline - for now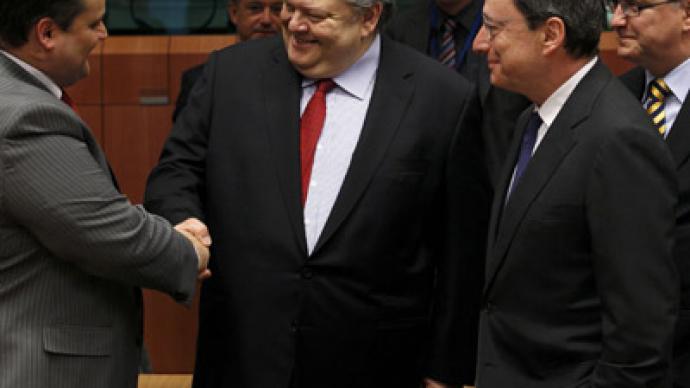 Greece has received the first €7.5 billion of another lifeline from international creditors. Meanwhile, the debt-crippled country is set to formally approve new international bailout deal in parliament later on Tuesday.
The eurozone has granted Athens €5.9 billion through the European Financial Stability Facility (EFSF), which is coupled with €1.6 billion from the IMF, Reuters reports.The country needs to spend €4.66 billion of it to pay off three-year bonds of the ECB and other European central banks, with some €200 million in interest on the same bond to be paid on top of that. The remainder will go to the country's budget.But for this tranche for Greece the country would have defaulted on Tuesday, as March 20 was set as the deadline to pay off bonds worth €14.4 billion.A part of it, €9.77 billion, was written down in the biggest restructuring with private debt holders in history. Combined with its first rescue package, the country stands to receive over €172 billion in loans from eurozone countries and the IMF. However, a debt sustainability analysis by the International Monetary Fund, the European Commission and the European Central Bank warned that Athens may still be unable to implement reforms at the necessary pace. The program's balance of risks is leaning toward the downside scenario which would see debt falling to only 145.5% of national income by 2020 even after taking into account the recent losses accepted by private holders of Greece's bonds. Meanwhile, the rescue plan aims to reduce the debt-to-GDP ratio to 120.5% in 2020 from the current 169%.Experts also say the country may fail to lower its debt burden to the specified targets, later requiring more rescue loans. "While you reduce your debt by €105 billion through a haircut, you're not going to get out of it until you actually implement some of the structural reforms," Nick Strekas, an author, economic analyst and international lawyer, told RT."We need to forget this austerity policy of "tax everything and cut wages and slash pensions," because it's a dead end. What we need to do instead to create a primary surplus is to actually reduce waste and get rid of corruption," Strekas specified. Athens has also committed to raise €19 billion ($25 billion) by 2015 under an open-ended €50 billion ($65.7 billion) program to privatize or develop state property. On Tuesday, Greek officials met with investors from Turkey to present a sale of state assets, Bloomberg reports. Among the assets on offer are two seaports, gas supplier Depa SA, gas-grid operator Desfa SA. The sports betting company Opap SA (OPAP) and the country's biggest refiner Hellenic Petroleum SA (ELPE) are also for sale, according to the IMF."Looking further afield," to "other traditional sources of investment in the Western world through capital markets in places like London and New York" and "not just at BRICS but even neighbouring rivals," could be of real use for the country, Strekas concluded.
You can share this story on social media: