Greece could get concessions, if sticks to the reforms – German lawmaker
Published time: 21 Aug, 2012 12:06
Edited time: 21 Aug, 2012 16:06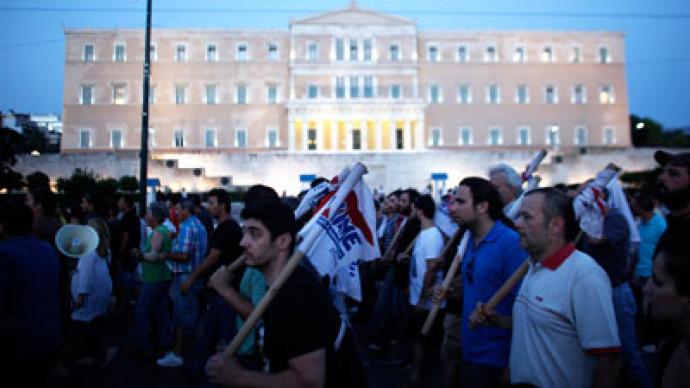 Greece could get some adjustments to its austerity program, if the country's government shows it is meeting the main targets set out in its aid program, a senior lawmaker of Chancellor Angela Merkel's party said.
­"Small concessions are feasible provided they are strictly made within the framework of the second aid program," Norbert Barthle, the CDU budget spokesman in parliament, told Bloomberg. "For instance, the interest and maturity on loans could be adjusted, as in the case of the first aid package".

Greece set a precedent of concession as it secured lower interest rates and longer maturities on bilateral loans for the first bailout, Barthle explained. The Budget Committee of Germany's Bundestag would be called upon to approve such adjustments rather than a vote going to the full plenary session, according to him.

"What's utterly important is the will of the Greeks to fulfil the terms of the financial help. The ball is in the Greeks' court," he stressed.
The comment came ahead of Friday's meeting in Berlin between German Chancellor Angela Merkel and Greek Prime Minister Antonis Samaras. On Thursday French President Francois Hollande is also due to meet Merkel and Samaras to discuss the possibility of a two-year extension of the Greek aid program.
However, some German officials have taken a tough line on Greece and say any adjustments would be ruled out. Finance Minister Wolfgang Schaeuble said on Saturday: "I have always said that we can help the Greeks, but we cannot responsibly throw money into a bottomless pit."

Volker Kauder, the parliamentary leader of Merkel's bloc, stressed the Greeks must stick to the agreement. "There is no more latitude, either on the timeframe or the matter itself, because that would again be a breach of agreements," he pointed out. "It is just that which led to this crisis".