Gazprom swaps Siberian fields for BASF gas trading and storage businesses
Published time: 14 Nov, 2012 12:09
Edited time: 14 Nov, 2012 16:09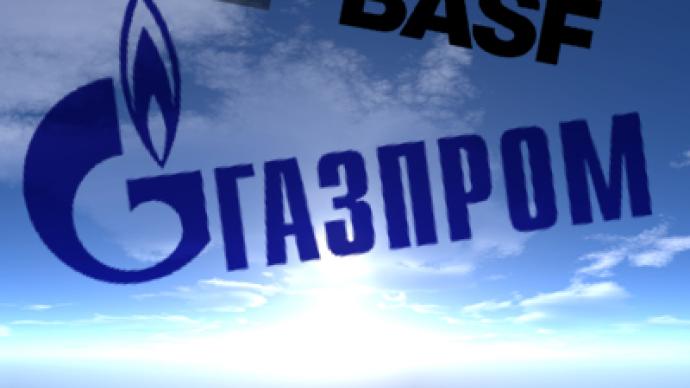 Germany´s BASF group agreed to hand over its gas trading and storage businesses to Russian gas monopoly Gazprom. In an asset swap deal in return BASF will get more oil and gas production from Russia's western Siberia.
Gazprom is set to take over 100% of BASF´s Wingas, WIEN and WIEE – joint gas trading ventures – as well as the group's storage facilities in Austria and Germany.
The two companies signed a basic agreement on Wednesday. On top of that, Russia's gas giant will get 50% of Wintershall Noordzee B.V, which operates in the southern North Sea. In return, BASF's Wintershall will receive "25% plus one share in Gazprom's 2 blocks in Achimov formation in Siberia, together withthe option to increase the share in the two gas and condensate deposits to 50%," a BASF press release said.
"Subjecttotheapprovalbytherelevantauthorities,the transaction isto becompletedby theendof 2013 and financially retroactive to April 1, 2013," BASF reported.
An earlier asset swap between Gazprom and BASF took place in 2007. Then the Russian gas producer increased its stake in WINGAS GmbH to 50% less one share, as well as another 49% of Wintershall AG. In return the company got a 25% stake in Gazprom's Severneftegazprom.
In July 2003, Gazprom and Wintershall Holding AG set up a joint venture called Achimgaz to explore and develop the Achimov formation in Siberia.
BASF is the world's leading chemical producer, while Wintershall Holding GmbH is its 100% energy arm. WINGAS and WIEN were jointly set up by Gazprom and Wintershall. One of the key operation areas between Gazprom and Wintershall included the construction of the Nord Stream pipeline.