Gazprom eyes Japanese expansion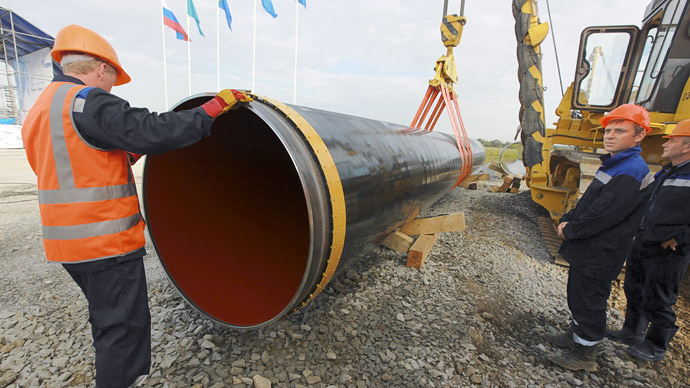 Seeking to expand in its export markets, Russia's gas major Gazprom is now looking to develop terminals to process liquefied natural gas as well as distribution networks in Japan.
Japan is largely dependent on gas exports, as the country consumes above 100 billion cubic metres of gas a year while producing domestically no more than 4 billion.Since the Fukushima disaster in 2011 Japan is seeing a greater need for gas
After the incident, "of 50 nuclear power units, only two are working - that's a large drop in power generation, we understand that perfectly," said Russia's President Vladimir Putin at a press conference following talks with Japanese Prime Minister Shinzo Abe.
Given Russia's abundant hydrocarbon reserves, the country is quite "capable of providing for the growing consumption of hydrocarbons in Japan without harm to our traditional partners and without harm to our own consumers," Putin added.
Russia supplies about 6.5 million tonnes of gas to Japan each year, which is about 8% of the total need of the Japanese.
Russia must need closer energy cooperation with Japan to back its Eastern Gas Program, which exports to Asian – Pacific countries, says Michael Korchyomkin, a director at East European Gas Analysis.
Among the joint gas projects between Russia and Japan are Vladivostok LNG and Sakhalin–2, an oil and gas joint venture between Gazprom, Shell and Japanese companies Mitsui  and Mitsubishi.
Gazprom's chances to successfully compete in regasification in Japan look slim, as currently the country processes about 250 bn of cubic metres of liquifed gas. So, new LNG terminals are unlikely to have huge effect on the country's economy, analysts say.
Further cooperation between Gazprom and Japan should deal mainly with the latest projects aimed at increasing Russian gas exports to Japan, says Grigory Birg, an analyst from Investcafe.
The Sakhalin – 2 project should be more attractive for the Japanese, as the prime costs there are acceptable, Korchyomkin added.  The situation around the Vladivostok LNG plan, that's due to start operations in 2018, so far looks vague. The price of gas produced there could rise too much – to as $700 per a thousand cubic metres, the expert concluded.
Pricing it in
At the moment price issue remains a key one for the Japanese. "Cutting prices for the fuel bought abroad is an urgent task for our country," said Toshimitsu Motegi, the Japanese Minister of Economy, Trade and Industry.
People in Japan pay about $550 per thousand cubic metres of gas, which compares to the average of $365 in Europe.
The Japanese have started to ask for lower prices, Valery Nesterov, an analyst at Sberbank Investment Research, told Kommersant daily. This isn't surprising, as the number of similar requests has increased, adds Mariya Belova, a senior analyst at the energy sector at Moscow School of Management, Skolkovo. Rosneft and Novatek are among other Russian companies offering their LNG (liquefied natural gas) projects, and looking for possible delivery contracts to the country.
You can share this story on social media: