G20 financiers agree to keep global economy more predictable
Published time: 21 Jul, 2013 00:20
Edited time: 21 Jul, 2013 00:22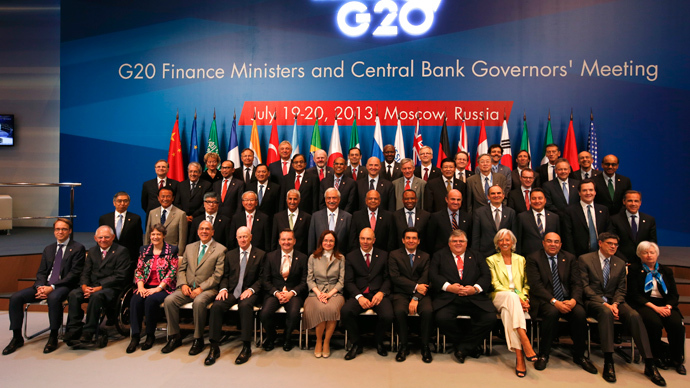 Boosting growth and avoiding currency wars by "carefully calibrating" monetary policies are among the key points outlined in a communiqué signed by G20 group finance ministers and bankers on Saturday.
The gathering in Moscow is seen as a precursor to September's G20 summit in St. Petersburg. The talks resulted in a communiqué acknowledging the recession in the Eurozone as well as the slowdown in emerging markets and urging a revival of the "weak" global economy by carefully adjusting national stimulus policies.
"While our policy actions have contributed to containing downside risks, those still remain elevated," the statement said. "There has been an increase in financial market volatility and a tightening of conditions."
The G20 agreed to make boosting jobs and overall economic growth the short-term priority rather than deficit reduction. The statement said jobs could be boosted by re-balancing global demand and reducing fragmentation of financial markets.
Among the issues discussed was the possibility the US Federal Reserve might curb its monetary stimulus and money printing. Emerging markets were especially concerned at the possibility that their fragile economies could be hit by a sudden about-turn in US policy.
The statement however promises that any changes to monetary stimulus packages would be "carefully calibrated and clearly communicated."
Overall the trend for the future should be to reduce budget deficits, especially for Europe where many countries fall into a recession.
"(Our G20) colleagues have not made the decision to take responsibility to lower deficits and debts by 2016," Russia's finance minister Anton Siluanov said on the fringes of the meeting in Moscow, adding that "some people thought that first you need to ensure economic growth."
RT's Madina Kochenova reported from the Russian capital that "the G20 financial leaders vowed to prevent currency wars, although IMF chief, Christine Lagarde, believes the danger of currency manipulation is exaggerated".
"We really focused on growth and employment and what is the policy mix that will help improve growth encourage and create jobs," Lagarde said in an interview with Bloomberg earlier. "Central banks share that concern."
Other topics on the agenda included governments' role in creating incentives and eliminating barriers to investment in job creation, and cost effective social policies to facilitate job creation and inclusive societies. All this is planned to be discussed at the G20 leaders' summit hosted by President Vladimir Putin in September.