G20 gives 'currency war' stamp of approval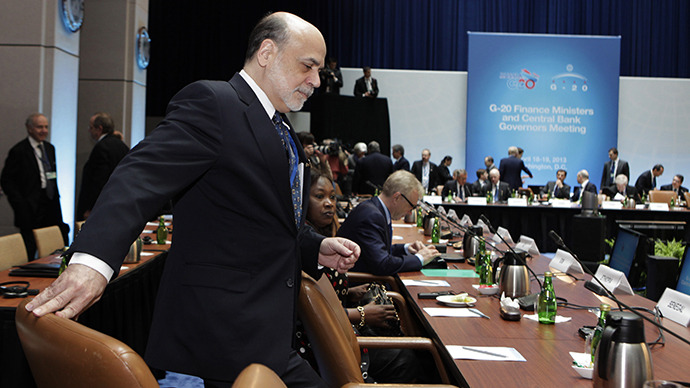 Finance ministers and central bankers from the G20 have approved Japan's aggressive stimulus program at the final day of their conference in Washington, D.C. The leaders also addressed economic growth and unemployment.
Japan reassured other finance ministers that it isn't intentionally weakening the yen with its stimulus plan.
According to the Japanese Finance Minister Taro Aso, his colleagues understand that Japan is pursuing "price stability and economic recovery," rather than competitively weakening the yen.
Expert are split on whether the meeting will bring significant positive results. Some believe the communiqué will repeat February's decision, when the group agreed to avoid using competitive currency devaluation to gain advantages in trade, the Associated Press reports.
US Treasury Secretary Jacob Lew spoke of the intention to put more pressure on Europe to boost efforts to support growth, and on Japan and China to avoid lowering the value of their currencies in order to improve exports.
In Europe countries have yet to agree on the scale of austerity measures they apply locally, while Germany is pressing on deficit reduction.
IMF Managing Director Christine Lagarde is urging countries to focus on growth rather than on adjusting budget imbalances. She also said that Europe needs "to fix its frayed banking system" first and foremost.
Earlier this week, the IMF lowered its outlook for the world economy, predicting government spending cuts would slow US growth and keep the Eurozone in recession.
The G20 talks, chaired by Russia, kicked off in in Washington on April 18 and continued on Friday. The meeting preludes the upcoming spring meetings of the 188-nation International Monetary Fund and the World Bank.
World Bank President Jim Yong Kim told reporters that the BRICS' proposed creation of a new development bank is a good plan, as it will create new sources of capital needed to meet the world's need to fund infrastructure projects.

The plan to create a new development bank was agreed by the leaders of Brazil, Russia, India, China and South Africa last month during the summit in South Africa. The project is aimed to attract investment to help fund $4.5 trillion in infrastructure projects in emerging economies.

You can share this story on social media: