'Can't keep weakening': Japan suffers record trade deficit of $17.4 billion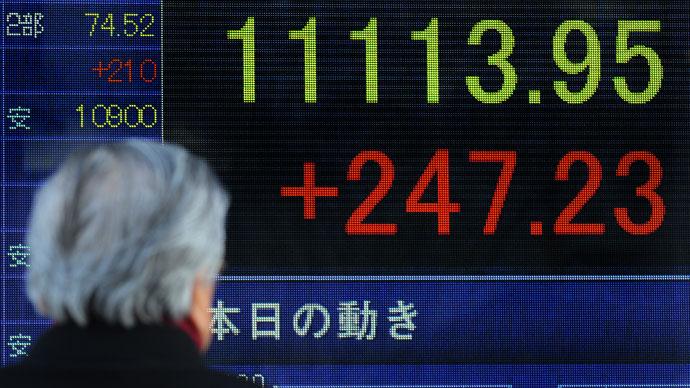 Japan has posted a record trade deficit of $17.4 billion in January, a signal to officials that a weakening yen may not be the key to boosting economic performance.
Japan's strategically weakened yen has helped increase exports by 6.4% in January -the first rise in exports in eight months- but growth in imports still far surpasses exports. The Finance Ministry released the figures in Tokyo Wednesday.
"The trade deficit means the yen can't just keep weakening," Takeshi Minami, chief economist at Norinchuckin Research Institute Co. in Tokyo, told Bloomberg BusinessWeek.

The yen has fallen more than 13% against the dollar since Prime Minister Abe Shinzo took office and began his aggressive monetary crusade against deflation. The yen opened at 93.57 to the dollar on Wednesday.

The big growth in imports is intrinsically linked to the increased demand for fossil fuels since the crippling 2011 nuclear plant accident. Most nuclear plant activity came to a halt after the accident deepening Japan's dependence on imported energy.

"Abe will probably restart some nuclear plants after the upper house elections in July as, without them, the costs to the economy are too great," Minami said.

Imports of petroleum products climbed 33.7% and natural gas climbed 11.4% in 2012. If Japan wants to reconcile its trade deficit, these numbers need to decrease.

Other politics have also greatly impacted the huge deficit. Demand from the Eurozone (down 4.5%) hasn't fully recovered from the crisis, and territorial disputes with China curbed exports to only a 3% increase.
Japan's export-heavy strategy has picked up momentum with the world's largest economy, the US. Exports increased by $8.97 billion from last year, an 11% increase.

Shinzo will meet US President Barack Obama in Washington on February 22 to discuss North Korea and nuclear proliferation. His top currency official, Vice Finance Minister Takehiko Nakao, is accompanying him, Bloomberg reports.
Hedge funds profit betting against the yen
Wall Street's latest trend has been wagering against the yen, which has dropped nearly 20% since November, when Abe openly announced his plans to drive down the yen.
US hedge fund investor George Soros has earned $1 billion since November betting against the yen, The Wall Street Journal Reported.
"It's a bet on Abe-nomics" someone close to Soros' firm said.
Other investors riding the yen profit wave are Greenlight Capital, Third Point LLC, and Hayman Capital Management LP, the WSJ reports.
'Currency wars' have always been a feature in hedge fund portfolios, and now the weak yen is paying out billions.
"We put the trades on about three years ago and the trade wasn't fun for the first two years and number of months," Greenlight's David Einhorn told WSJ.

You can share this story on social media: