Freddie Mac sues banks for Libor losses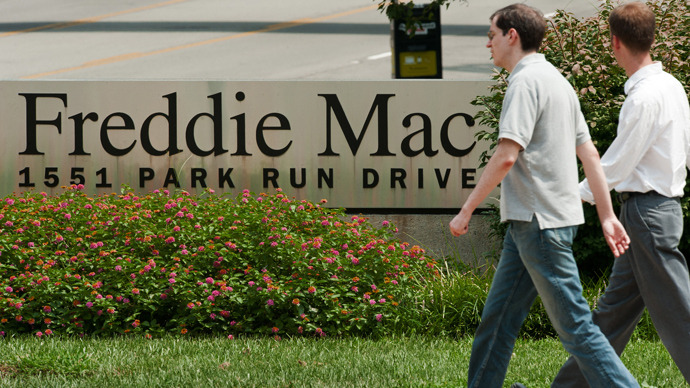 US mortgage company Freddie Mac claims it suffered more than $3 billion in losses between 2007-2010 due to bank manipulation of Libor, a benchmark borrowing rate run by the British Banking Association.
Freddie Mac is suing more than a dozen banks, including Bank of America, JPMorgan Chase, UBS, CitiGroup, Royal Bank of Scotland, and Credit Suisse for setting the Libor low against the dollar to "both hide their institutions' financial problems and to boost their profits," according to the complaint. The complaint was filed March 14 in US District Court in the state of Virginia.

"Defendants' fraudulent and collusive conduct caused USD LIBOR to be published at rates that were false, dishonest, and artificially low," Richard Leveridge, a Freddie Mac lawyer wrote in the complaint, which went public on Tuesday.
The banks have not released any official comments regarding the lawsuit.
Freddie Mac said it discovered the fraudulent lending rates when Britain's Barclays publicly came forward in the Libor scandal.
Manipulation of the Libor rate is one of the largest scandals to hit the finance industry- over $300 trillion in loans, mortgages, and contracts are linked to the Libor rate.
"To the extent that defendants used false and dishonest USD LIBOR submissions to bolster their respective reputations, they artificially increased their ability to charge higher underwriting fees and obtain higher offering prices for financial products to the detriment of Freddie Mac and other consumers," the US-owned company said in the complaint.
Barclays, UBS and Royal Bank of Scotland were fined a total of $2.6 billion for manipulating rates, and more than a dozen banks are under investigation. In June 2012, Barclays paid £290 million in fines to US and UK financial agencies.
"We have an obligation to minimize losses to taxpayers so we felt like we needed to preserve our claim, and that was the purpose of filing this individual suit," a spokeswoman for Freddie Mac told the Wall Street Journal. The company is part of at least one other class-action lawsuit regarding Libor, she said.
The Freddie Mac lawsuit implicates the BBA "participated" in the Libor rigging scheme to 'appease' its member banks, many of which Freddie Mac targets in its lawsuit.
The British Banking Association (BBA) voted in February to formally transfer control of the London Interbank Offered Rate (Libor) in hopes of reviving the reputation of London's lending standards.
A spokesman for the BBA declined to comment.
Freddie Mac hasn't indicated precise damages it will seek in court.
You can share this story on social media: