Market Buzz: Positive US, eurozone data to mend Fed damage
Published time: 23 Aug, 2013 07:00
Edited time: 23 Aug, 2013 07:27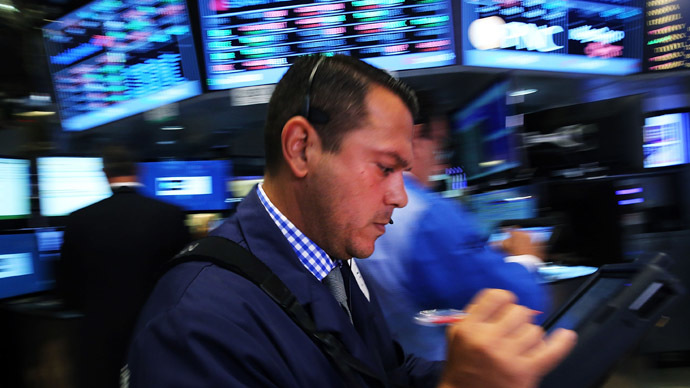 Markets are moving into positive territory after big losses followed by the Fed's signal that tapering is imminent, and are expected to perform well Friday, driven by positive data from the eurozone and US.
US unemployment data fell to a five-year low on Thursday, an indicator the labor sector, among others, is gradually improving. Those seeking unemployment benefits fell to the average of 330,500 average, according to the Labor Department report.
Thursday data showed that Business activity across the eurozone picked up in August at a faster pace than expected.The flash reading of Composite Purchasing Manufacturing Index (PMI) hit a two-year high of 51.0.
Russian floors, despite other emerging markets' sell-offs, gained Thursday, but are off to a slow start Friday morning.

The MICEX is down 0.04 percent at 1,396.16 and the dollar-based RTS lost 0.1 percent at 1,328.93.
Gazprom, Russia's largest producer of natural gas added 0.48 percent, leading the floors.

Oil prices are steady, with WTI crude up 0.07 percent at $105.10 per barrel, and Bench increasing 0.35 percent to $110.28 a barrel.

Asian equities are soaring, largely due to positive from China, as well as eurozone and the US, as the two latеer import countries' health is of prime concern to China, India, and Japan. Tokyo's Nikkei 225 jumped 2.87 percent, Hong Kong's Hang Seng added 0.53 percent  and the Shanghai composite  grew by 0.3 percent.
In China, a survey by HSBC indicated that manufacturing was expanding, the latest evidence that the world's second-largest economy may be over its recent period of weakness.

On Thursday trading on the NASDAQ Exchange – the second biggest US floor - experienced a three-hour computer outage due to a technology glitch.

Despite the US Federal Reserve remained vague on exactly when they will begin tapering its $85 billion-per-month stimulus program, markets reacted as if a decision was reached. Indexes sank worldwide, with emerging markets and their currencies reaching  record lows.

Chairman Ben Bernanke said the board is 'broadly comfortable' with the idea of winding-down, yet deems the timing "not yet appropriate," providing no precise timeline.

US stocks gained on the announcement, and at market close the Dow Jones finished up 0.44 percent, the S&P 500 gained 0.86 percent, and the NASDAQ climbed by 1.1 percent, to  3,638.71

At the close of US trading, the Dow Jones Industrial Average finished up 0.44%, the S&P 500 index rose 0.86%.