Power core: Infrastructure development in Far East key to energy sector
Published time: 7 Sep, 2012 17:51
Edited time: 7 Sep, 2012 21:51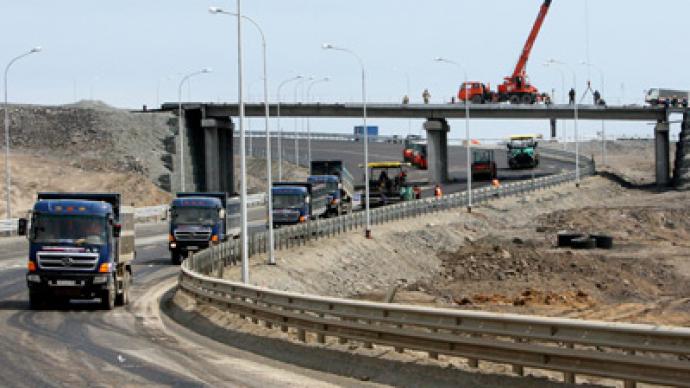 The Russian government should do more to attract investment in Russia and the country's Far eastern region, including spending government money on infrastructure, Andrei Kostin, the head of head VTB bank told RT.
"My advice has always been to invest money in Russia, and the Far East in particular, because it's very rich in natural resources and in human resources. I hope in the future there will be better transportation system in those remote regions of Siberia and the Far East, with an easier transport access to the Pacific", said the head of Russia's second largest lender in an exclusive interview to RT.

"I think it's a good opportunity and it is reliable to invest, but I think the Russian government should do more to attract investment including spending government money on infrastructure".

The CEO of Russia's Vneshekonombank, Vladimir Dmitriev, agrees that better infrastructure is one of the crucial issues to address, particularly in the Far East. However he said that "just infrastructure with the well-known limits of budgetary resources is nothing" if Russia doesn't "combine this with comprehensive development of territories". "Building up of railways or roads or electricity stations is nothing if we don't combine this with industrial development, agricultural development or construction industry of this territory. And to attract investment, to convince them that this investment might be efficient we have to switch on the capacity of the state, the institutions which were created by the state", he told RT. "Such institutions like ourselves or like the Investment Fund need to convince investors that local and federal legislation is comfortable enough to guarantee paying back investments which we are putting in", maintained Dmitriev.
He also highlighted that the Russian direct investment fund owned by VEB was created last year and "its main purpose is sharing the risks of investors involved in projects, that otherwise are unlikely to attract foreign and local investors".
However, he warned that the funds invested in those projects should have at least a 50-50 ratio. "We try to invest less to attract more private investments into the project however the participation of a state-owned institution in the project is sort of guarantee and sort of comfort for private investors".

Earlier, President Vladimir Putin stressed the importance to develop infrastructure in the Far Eastern region, which is vital for the country's core industry – energy. "I want to draw your attention to the fact that Russian energy systems, the European and the Eastern ones, as with the road system, have never been connected with each other. This is the perspective for the near future. In developing an energy system in the Far East, we will connect it with the European part through infrastructure, so we could easily transfer the necessary streams of raw materials and electrical energy from one part of the country to another one, and easily come out to the markets of the European countries as well as the Asia Pacific Region".