Eurozone crisis over – Francois Hollande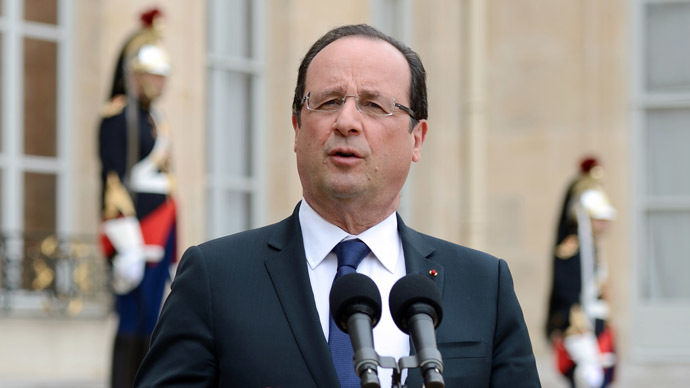 The debt crisis Europe has been going through since 2009 is now over according to French President Francois Hollande. He was speaking on the last day of his visit to Japan where his reassurances were aimed at boosting trade between France and Japan.
Talking to Japanese business leaders on Saturday President Holland said despite crisis in eurozone having eased there's still need for measures to boost the region's economy and competitiveness. The French President was in Japan to discuss trade relations between the two countries.

"What you need to understand here in Japan is that the crisis in Europe is over. And that we can work together, France and Japan, to open new doors for economic progress," Hollande said at a meeting organized by Japan's Nikkei newspaper. "We have used various measures to address weaker nations. Member nations have tried to restore fiscal health. We have also established a banking federation. Due to these efforts, yields in the euro zone have dropped dramatically and we have been able to restore confidence among investors."

To reassure investors, Hollande claimed that the debt crisis contributed to "reinforcing" Europe and forced the 17 single currency-using states to deepen cooperation for the good of the whole of the Eurozone. In his view it's the crisis that made European authorities cooperate and work out instruments to support the region's economy and the single currency.

"I believe that the crisis, far from weakening the Eurozone, will strengthen it," he said. "Now, we have all the instruments of stability and solidarity. There was an improvement in the economic governance of the Eurozone, we set up a banking union, we have rules on budgetary matters that allow us to be better coordinated and have a form of convergence."

Despite the fact that many of the Eurozone's major weaknesses have been tackled, the economy in Eurozone is still shrinking and the manufacturing sector is also in contraction. Unemployment has soared to its highest level since the euro was introduced in 1999 and reached 12.2 percent.

"We must create a new outlook - an outlook for growth and employment. Together with Germany, we are trying to establish new goals beyond fiscal discipline. France and Germany together are trying to address unemployment, particularly among the youth, in order to restore Europe's competitiveness… We must ensure that industries are not only hindered but become part of our long-term strategy."

In his speech Hollande named Japan an "exceptional partner" calling for both states to boost investment into each others' economies.

President Hollande also spoke of his idea to create a single common economic government that would be responsible for the economic policy in the Eurozone.